Sunday, December 22, 2002
Books
Invest wisely to multiply your money
B.S. Thaur
Tax & Investment Planner
by Sudhir Malik. Taxmann's. Pages 269, Rs 200.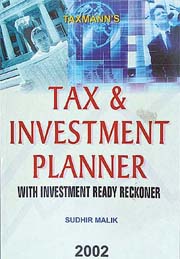 ALTHOUGH the title of the book might suggest that it is an addition to the slew of similar books already in the market and on the tables of tax practitioners but a cursory browsing of the book reveals that it is off-beat. More than 80 per cent of the book has been devoted to detailed discussions of various avenues for investment. This feature makes the book a 'must have' for investors, particularly the middle-level and smaller ones.
Full marks to the author Sudhir Malik, Zee TV panelist on income tax and investments, for explaining in a simple and lucid manner almost all products, instruments and portfolios available in banks, post offices, government schemes and in the market etc in which investors may place their funds.
The book discusses 26 possible investment avenues and also takes note of the rates of return and tax benefits, if any. This marks the book as different for other books on the topic. The charts showing comparative rates of return on investments on various accounts are both informative and educative.
Probably with a view to lending sanctity to the activity of amassing wealth, the author has quoted shalokas from the Rig Veda and the Mahabharata. On wealth accumulation, the Sanskrit shaloka can be translated to mean "Wealth should be earned, increased and protected. If spent without earning, it will perish even if it is like Sumeru mountain".