So the winner of one episode could trade his or her win in the next episode. If he has won a car he could try his luck for two cars — He could win both or lose even what he has won. As the contestant keeps trading, week after week, he could just land up with a mega jackpot — the grand luxury Hyundai Sonata car.
For all those keen to participate just SMS 7827 or email at Khulljasimsim@indya.net. You never know. It could be your turn to turn lucky!
Soapy affair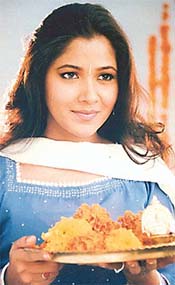 Narayani in Piya Ka Ghar: Mushy soap
It's been a slot Zee TV has been keenly eyeing. Ever since the channel's popularity came tumbling down at the prime time it has been meticulously upgrading the quality of its programming in the afternoon slot.
Apart from top slot re-runs of serials like Shobha De's Kittie Party and Koi Apna Sa and shows like Naye Nazare, the channel is putting in all it has as far as absorbing soaps go. One of the most popular daily soaps engaging the attention of women viewers is Piya ka Ghar, Monday to Friday at 2 p.m.
It revolves around a young cheerful girl, Rimjhim, who leaves the confines of her small hometown for the big city to find love and succour in the home of her childhood sweetheart. Though she soon realises that life is not always a bed of roses, she quickly begins to make the necessary adjustments to make her life happy.
Though the storyline is hackneyed the soap has been notching robust TRPs, thanks mainly to the fine performance by Narayani, who plays the protagonist. Definitely worth a look for those who like mushy stuff.
Then there were four
There may have been a split with one of the five girls of Viva walking out of the band but the hits are still coming.
Now after Hum Naye Geet Sunayein and Jago Zaara the all girl popstars, selected after a nation-wide glam-reality show by channel (V), are setting the pace again with the premiere of the third video, Jahan Ho Pyar Ka Mausam.
The video takes viewers on a musical journey with the viva girls in search of fantasyland. It's a completely different experience as the girls have for company the Boys for Viva — Sanju, Romeo, Parag, Gaurav & Nolen — who were selected among thousands of hopefuls to be a part of the third video.
The girls say they had a swinging time doing the third video. 'If the first was a dream come true, the next was sure magic and the third is a flight to fantasy," chorus the four surviving members quite oblivious to the fact that their flight of fancy could soon end with Seema reportedly walking out of the group.
Cyber angel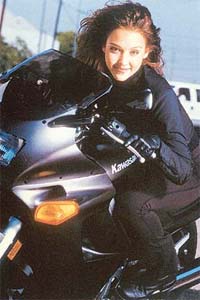 Dark Angel: Head-turning adventure.
She's eye candy. Long legs, languorous walk and come-hither looks. But these looks are deceptive. This angel is not for real. Academy award-winner James Titanic Cameron makes his TV debut with Dark Angel, a sci-fi adventure set in the future.
Dark Angel, Thursdays 6.30 p.m. on Star World stars Jessica Alba as Max, a genetically enhanced human prototype with attitude to spare. Having escaped her military handlers, she wants to re-unite with her siblings.
Max is aided in her quest — both to avoid capture and to reunite with her family — by Logan Cale, an idealistic cyber-journalist who battles corruption and an oppressive establishment in this futuristic landscape.
Max and Logan's growing attraction is put to the test as he breaks their first date to bust a flesh-peddler. But despite his infallibilities' the chemistry between the two starts simmering. Will love blossom between a normal Young man and a genetically engineered girl? Find out for yourself in this 'out-of-the-world' thriller.
Date with ghosts
Monsters and ghosts enter homes of viewers with spooky special episodes of Truth or Scare on Discovery every Tuesday at 3.30 p.m.
A scary and compelling series that has children of all ages hiding behind the sofa it is hosted by Michelle Trachtenber. It reveals facts behind fiction of some of the world's most terrifying stories and the truth about the creepiest of creatures.
Michelle, who also plays Dawn Summers in Buffy The Vampire Slayer presents Truth or Scare from an eerie castle room. Along with a team of experts, she investigates myths of ghosts and ghouls who are said to inhabit historic ruins.
Viewers discover truth about phantoms whispering through Scottish castle walls and tormented spirits of victims of bloody feuds haunting the brooding castles of England.
Though certain mysteries like the Bigfoot roaming Indian mountains remain mysteries forever, the series is still plain scary and its great fun meeting ghosts and ghouls.
— Mukesh Khosla