Method: Dissolve coffee in boiling water. Beat butter and sifted icing sugar in a bowl with electric mixer until light and fluffy. Beat in egg and coffee mixture. Transfer it to a large bowl. Stir in sifted flours in two batches. Knead the dough until smooth. Keep it in the refrigerator for 30 minutes.
Roll it between sheets of grease proof sheets until 3mm thick. Cut into star shape with a cutter. Place stars about 2 cm apart on greased oven trays. Bake in a moderate oven till lightly brown. Let these cool.
Filling: Combine cream, coffee, butter and stir over low heat until coffee is dissolved and the butter melts. Remove from heat and add chocolate and stir till it melts. Stir in sifted icing sugar.
Reserve some of the filling and fill the rest in a piping bag and pipe onto half the cookies. Place the rest of the cookies on top. Cover half of each cookie with paper and dust with icing sugar. Pipe the reserved filling onto centres and top with silver beads.
Cherry choco cake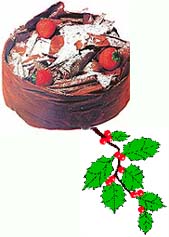 Cherry choco cake
Ingredients
Self raising flour 75 gm
Butter 100 gm
Castor sugar 230 gm
Eggs 6
Cocoa powder 60 gm
Vanilla essence 1 tsp
For filling
Cream 600 ml
Icing sugar 70 gm
Plain chocolate 100 gms
Chocolate curls 100 gms
Cherries 1can
Kirsch liqueur 10-12 tbsp
Method: Open the cherry can, drain the fruit and reserve the syrup. Add 10 tbsp of liqueur to the cherries and keep aside for about two hours.
Whisk sugar, eggs and vanilla essence in a bowl and put it over a saucepan of simmering water and whisk till the mixture thickens. Remove from saucepan and let it cool. Fold in the flour and cocoa powder and mix it gently and thoroughly. Finally mix in the melted butter and pour the cake batter into the prepared tin. Bake in a pre- heated oven for 40 minutes to one hour.
When cool turn out the cake on a wire rack and cut into three horizontal layers.
Drain the cherries and sprinkle the three layers of the cake wit the kirsch flavoured syrup. Whip the cream and add sugar and the remaining liqueur. Divide the cream and add cherries into one half of it and fill the bottom two layers with these. With the other half of the cream cover the sides and top of the cake. Press the grated chocolate into the sides. Pipe the remaining cream into swirls on the edge of the cake and decorate with cherries.
Chicken supreme
Ingredients
Chicken (whole) 1.5 kg
Soya sauce 2 tbsp
Tomato sauce 2 tbsp
For stuffing
Spinach (shredded) 2 cups
Mushrooms 125 gm
Fresh breadcrumbs 1 cup
Egg 1
Grated cheese 1 cup
Basil 2tsp
Black pepper 2tsp
Salt to taste
Method: Melt butter and add shredded spinach and diced mushrooms to it and stir add a little water and cook till tender. Add the rest of the stuffing ingredients and mix well. Bone the chicken and insert the stuffing in the centre of the chicken and arrange the skin around it in such a manner that it is enclosed completely. Secure with a string to give a good shape to the chicken.
Mix soy and tomato sauce and baste the chicken with it. Place it on a microwave safe roasting rack and cook on high for 10 minutes. Turn and brush with the remaining baste. Cook on high for 12 minutes. Cover with foil and stand for 10 minutes. Remove all strings and cut into slices and serve.
Sizzler
Ingredients
Chicken pieces 4
For marinade
Vinegar 11/2 tbsp
Tomato ketchup 3tbsp
Worcestershire 1tsp
sauce Chilli paste 1/2 tsp
Oil 2 tbsp
Garlic (crushed) 1 tsp
Plain flour 1 1/2 tbsp
Method: Mix all the ingredients of the marinade. Make 1-2 incisions in the chicken breasts and marinate the pieces for 1-2 hours.
Heat 2 tbsp oil in a pressure cooker. Add the marinated pieces an sir fry on high flame for 2 minutes. Add 3/4 cups of water and pressure cook to give two whistle. Remove chicken pieces leaving the juices inside. Add stock tomato puree, worcestershire sauce and chilli paste to it. Heat 2 tsp of oil in a pan and add crushed garlic to it. Stir and add flour and roast for some time. Add the liquid with sauces to it and stir continuously till it becomes thick.
Remove the iron sizzler plate from the wooden base and heat it on direct flame till it is very hot. Place it back on the base and place 2-3 cabbage leaves on the sizzler plate and arrange chicken fillets on these pour the hot sauce on top. Arrange boiled vegetables and french fries around it and dot it with butter( this will give the sizzling sound).
Coffee liqueur
Ingredients
Sugar 4 cups
Instant coffee 1/2 cup
Water 3 cups
Salt 1/4 tsp
Brandy 2 cups
Rum 1 cup
Vanilla essence 1 tsp
Method: Combine sugar, coffee, water and salt and bring to a boil. Stir until sugar is dissolved. Skim any froth from top. Stir in brandy, rum and vanilla essence. Mix well and fill in bottles after it cools. Store in a cool place for about two weeks before using.