But, the news didn't take long to trickle out. Wife, or no wife, Aamir's fans were here to stay. Everything seemed to be going well in Aamir's world, which by now had extended into a family of four with son Junaid and daughter Aira.
But the occasional strayings of the star, who had feet of wobbly clay, created trouble in the Khans' little world. Rumours of his flings with co-stars and a hair dresser, brought discord in Aamir's marital life.
The problems worsened during the making of Khan's magnum opus Lagaan. Aamir and director Ashutosh Gowarikar reportedly found it difficult to work with an overbearing and interfering Reena, who was the co-producer. The battle lines were drawn and Aamir and Reena decided to separate.
According to the terms of the divorce petition drawn by them, Reena will keep the custody of the children. Aamir, meanwhile, can meet his children thrice a week.
Sanjay Dutt and Rhea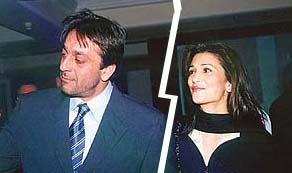 The Sanjay Dutt-Rhea Pillai love story began when Dutt was languishing in a prison cell during the Mumbai bomb blasts trial.
When an unkempt Dutt would be taken for hearings, pictures of Rhea, holding on to her boyfriend's finger from the wired windows of the police van, hit the front page. They spoke of true love in transient times. Indebted with gratitude and admiration, an emotional Sanjay reportedly stated, 'Love is what Rhea did when I was in jail. The future was bleak, there was no security or commitment. But she did not let the relationship die.'
Later, Sunjay Dutt, known to be impulsive, took Rhea by surprise when he proposed to her at a Valentine's day party. The two headed straight to a Sai-Baba mandir in Mumbai, woke the priest out of his reverie, and turned man and wife.
A couple of years later, tales of Dutt's roving eye created rift between the duo. While, Rhea now finds solace in the Art of Living course, Sanjay has plunged into his profession like never before.
Asked about it, Sanjay says, "I have signed at least seven films in the last one year, and all of them are being shot now. I don't know what to do with my time. So I keep working. My personal life is almost over.'
Talking about his estranged wife, he says, 'Rhea and me will always care and be there for each other. And that's what counts in the end. Not that we are no longer together.'
Vivek Oberoi and Gurpreet
Theirs' is a love story that finished much before it began. Vivek followed in the steps of Hrithik Roshan, when he flaunted his girlfriend, Gurpreet, a Miss India finalist and model, much before the release of his debut, Company.
Vivek made proclamations of love, 'Since I've met Gurpreet, I don't feel the chemistry with any other woman, not in my mind or even in my fantasies. I feel impotence of love for anybody else.'
The bond, it seemed, was rock solid, when the engagement was held soon after the release of his first flick. But, things started falling apart with Vivek getting immersed in his career, and his dad and directors resenting Gurpreet's overbearing influence on him. Even Vivek's mentor, Ram Gopal Varma, is said to have made his displeasure with Gurpreet clear to Vivek.
And just when December, the month when the couple was to get married, drew nearer, news broke out about the split. And with that, another love story bit the dust.
May be, the way things work out in the industry is best summed up by Gurpreet, 'Ours was a beautiful relationship that stood the test of time. But, the film world often consumes relationships.'
This only goes to prove that love is probably the first casualty when it comes to stardom!
— Leisure Media News