Sunday, December 22, 2002
Lead Article
Hollywood hues
Bondwagon




Brosnan: Living it up
LIFE sure has changed for current James Bond star Pierce Brosnan. Though these days he is flashing his licence to kiss, kill and crack dreadful jokes in his latest outing Die Another Day, he seems to have got some handsome rewards for doing four 007 films. How else would one explain Pierce Brosnan's money-spending binges and a lifestyle that rivals that of the richest of the rich of the dream city? Recently, in London for a minor back surgery, Brosnan utilised his recuperating time, gift hunting for his parents' 55th anniversary. The reported gift? A $ 21 million country house near London with the amenities of Buckingham Palace. Now that's style, 007 style!
Lady with a past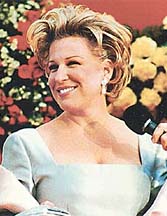 Midler: All for daughter's sake.
Sassy Hollywood singer-actress, the divine Betty Midler, who has served up a fare of may-hem and mirth in a string of hit movies Like Down and Out In Beverly Hills and Get Shorty is a very strict mom to her 14-year-old daughter, Sophie.
She makes it a point not to talk about her raunchy singing past in Sophie's presence. But now, after four Golden Globes, four Grammy's, two Emmy's and a Tony she is one of the leading lights of tinsel town and her past is a common topic of discussion. Starting her career singing her New York's sleazy nightclubs she rose to fame as a 'flesh' star who could drink any guy under the table. But, after the release of her first big hit, The Rose in 1982, Midler settled down to a life of sobriety and married a stock-broker. She began hitting big time with films like Ruthless People, Outrageous Fortune and For the Boys which won her the Golden Globe.
Which is why she is so distressed when magazines rake up her earlier life of drugs, drinks and men. "I'm more upset for my daughter because I want to give her the best upbringing anyone can.