Sunday, December 22, 2002

Ranga's Toon Tales
Shimon Peres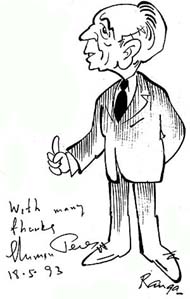 ONE of the most well-known diplomats in the world Shimon Peres, the Foreign Minister of Israel, was in Delhi to hold talks on bilateral issues and to further strengthen ties between India and Israel. A product of Harvard University, Peres rose to prominence when he negotiated successfully with the leaders of Palestine, especially Yasser Arafat.
For some time he was acting prime minister and became prime minister more than once. He won the Nobel Prize for Peace in 1994.
During his short stay in Delhi as his country's foreign minister he held a Press conference. He had a security cordon around him. I met him when the conference ended. I drew his attention to the picture I had made. He welcomed me and took time to look at his sketch and sign it.