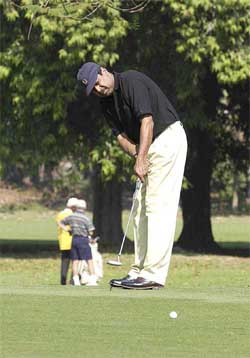 Kapil Dev inaugurates Chivas Regal Invitational Golf Challenge in Mumbai on Sunday. — PTI
India faltered at crucial moments
Once again, the Indian team will return from a foreign field with empty hands and blank faces. They had a good chance to redeem themselves in the Hamilton Test but they faltered at the most crucial moments.
Aussies thrash Lanka
Perth, December 22
World one-day cricket champions Australia steamrollered to their third successive win in the tri-nations limited-overs contest here today when they crushed Sri Lanka by 142 runs at the WACA Ground.
Innings win for Haryana
Gurgaon, December 22
Haryana bowlers Amit Mishra and Joginder Sharma ripped apart the Bihar batting line-up sending the visitors crashing to an innings and 48 run defeat in the Ranji Trophy league match here today.
Six-wkt win for Rajasthan
Jaipur, December 22
Boosted by a fine 35-run knock by makeshift opener and wicket keeper Rohit Jhalani, hosts Rajasthan cruised to a comprehensive six-wicket victory over Himachal Pradesh on the last day of their Ranji Trophy Elite Group 'A' league match here today.
National Games end amidst fanfare
Hyderabad, December 22
The 32nd National Games today drew to a close amidst a dazzling razzmataz of hi-tech gadgetry showcasing the rich cultural tradition of hosts Andhra Pradesh. While the opening ceremony on December 13 focussed on the nation's underlying principle of unity in diversity with a well thought-out Spirit of India show, the two-hour long closing function paid tributes to sportsmanship and sporting excellence through audio visuals and presentation of trophies to the top achievers.
POA to honour medallists
Chandigarh, December 22
The president of the Punjab Olympic Association, Mr Sukhdev Singh Dhindsa, has congratulated members of the Punjab contingent for their excellent performance in the 32nd National Games which concluded at Hyderabad today.
Football: Punjab keep honours intact
Hyderabad, December 22
Soccer produced no surprises in the 32nd National Games as defending champions Punjab kept their honours intact, but a depleted men's field and a general lack of public interest in the discipline highlighted the need for a fresh look at the Indian football schedule.
Sweet revenge for TN against Punjab
Hyderabad, December 22
It was sweet revenge for Tamil Nadu who defeated Punjab to win the gold medal in the men's basketball event at the 32nd National Games. Having lost the final to Punjab at the previous edition of the Games, Tamil Nadu's gold medal triumph was creditable not only because they overcame a very tough opponent but also because they braved a partisan crowd.


Good response to inter-state golf
Chandigarh, December 22
There has been overwhelming response to the inaugural Bank of Punjab Inter-State Golf Championship to be conducted by the Chandigarh Golf Association at the Chandigarh Golf Club on December 23 and 24. More than 40 golfers from over 10 states as also Railways and Services will be seen in action.
PSIEC in final
Jalandhar, December 22
Escorts Ramesh Chander Memorial Academy will take on Ropar Hawks in the boys section while Punjab State Industries and Export Corporation will meet Sukhjit Starch Mills, Phagwara, in the women's section in the finals of the 6th Ramesh Chander Memorial Hockey Tournament here on Tuesday.
Rural soccer results
Chandigarh, December 22
Two time champions Langeri Club today reached the (finals of the 22nd Punjab Rural Football Tournament being played at Nangal Khilarian village, 20 kms from Hoshiarpur.

Video
Ice skating a popular tourist attraction in Shimla is losing it's charm as rising pollution levels lead to slow and poor ice formation.
(28k, 56k)