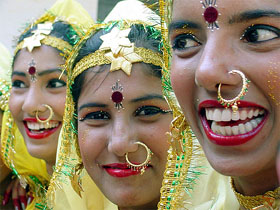 Girls participate in a three-day cultural festival in Bhopal on Monday. — Reuters
Sonia 'hurdle' in forging alliance: NCP
New Delhi, January 6
The Nationalist Congress Party today described Ms Sonia Gandhi as the "main obstacle" for forming an alliance to counter the BJP at the national level even as it welcomed the Congress' readiness to form an alliance with like-minded parties.
Cong to evolve guidelines on HP candidates
New Delhi, January 6
The Congress high command has decided to evolve guidelines for deciding party candidates in Himachal Pradesh. The move, apparently aimed at reducing differences between the senior leaders on the ticket distribution, will also help party in the exercise of shortlisting candidates.
Cong's coordination panel for UP
New Delhi, January 6
The Congress today formed a coordination committee for Uttar Pradesh to streamline the party functioning in the state. Headed by party treasurer Motilal Vora, who is in charge of the state, the panel has 21 members. Senior Congress leaders Ambika Soni, Ahmed Patel, Mohsina Kidwai and AICC secretary Janardhan Dwivedi are permanent invitees to the coordination committee.
Cold wave claims 20 more lives
Patna, January 6
Unprecedented cold wave in the state has led to the death of 20 persons in the past 48 hours. The death toll in the state due to the prevailing cold wave conditions has been pegged at 200. The state being in close proximity to the foothills of the Himalayas along Nepal has registered a sharp fall in temperature.
Site for statue not acceptable to trust
New Delhi, January 6
The Master Tara Singh Trust chaired by former Punjab Chief Minister, Parkash Singh Badal is displeased with the Urban Development Ministry for sparing what it called a "footpath" in the Capital for installing the great Sikh leader's statue.
Sanjay Dutt appears in TADA court
Mumbai, January 6
Actor Sanjay Dutt, along with 86 co-accused currently on bail, today appeared before the TADA court that hears the 1993 Mumbai serial bomb blast case.
Cop dies hero's death
Kolkata, January 6
After battling for his life for six days, traffic sergeant Bapi Sen, who was mercilessly beaten up by five off-duty constables for protesting against their eve-teasing, died at the hospital early today.
50 cr allocated to Kolkata airport
New Delhi, January 6
In line with its plans to upgrade Netaji Subhas Chandra Bose International Airport in Kolkata to meet the global standards, Airports Authority of India Board has recently cleared a proposal to upgrade the cargo facilities at the airport.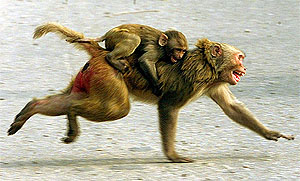 ROAMING FREE: A monkey carries her baby on her back as she runs down a street in New Delhi on Monday. It is common to see monkeys roaming the streets of India's Capital city. — Reuters
Salman case: orders deferred till Jan 10
Mumbai, January 6
A local court today deferred until January 10 its ruling on the plea of actor Salman Khan for return of his vehicle which rammed into a bakery on September 28, killing one person and injuring four others.
CPI takes exception to PM's rhetoric
New Delhi, January 6
The Communist Party of India today took strong exception to Prime Minister Atal Behari Vajpayee's remarks on "saffronisation" of school curriculum saying that it revealed his penchant for looking at everything in "communal idioms and symbolism — either saffron or green".
Cong leader shot dead in Daman
Ahmedabad, January 6
A Congress leader was shot dead by three motorcycle-borne assailants outside a temple in Daman town this morning, the police said. Congress leader Kalidas Fakir was killed when he was coming out of the Jalaram temple in the Bhimpur area at around 9 a.m., the Union Territory police said.
Chief Secys' meeting today
New Delhi, January 6
Deputy Prime Minister L. K. Advani will address a conference of Chief Secretaries and state police chiefs tomorrow at Vigyan Bhavan here.