New Delhi, January 9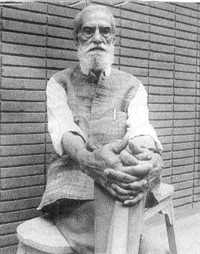 Bhabesh Chandra Sanyal, known popularly as B.C. Sanyal or Bhabeshda, was a restless genius whose constant experimentation and concern for the human condition earned him accolades as the doyen of Indian art.
B.C. Sanyal, who breathed his last today at the ripe old age of 102, is credited with bringing modernism into Indian art. While constantly experimenting and innovating within his own oeuvre, Sanyal also spearheaded a generation of artists and put Indian art on a strong footing by building up institutions such as the Lalit Kala Akademi (LKA).
His zest for life and art continued till the very end. Though ailing from several old age-related problems, Sanyal was till recently engaged in setting up an artists' resort in Kangra in Himachal Pradesh.
To mark his birth centenary in 2000, the Indian Government issued a special stamp in his honour. Other honours also came his way, including the Padma Bhushan, the Konarak Samman and the Honorary Fellowship of the Russian Centre for Science and Culture.
Born on April 22, 1901, in Dhubri town in Assam, Bhabesh Chandra Sanyal spent six years at Serampore College of Art in Kolkata, where both his painting and sculpture skills were honed under the guidance of Percy Brown and JP Ganguly. He found a role model in Rabindranath Tagore and his work was reminiscent of the Bengal School.
In 1929, Sanyal got a rare honour when the Indian National Congress commissioned him to prepare a bust of its recently martyred leader Lala Lajpat Rai for the Lahore session.
Soon after, Sanyal was appointed vice-principal of Mayo College of Art in Lahore, a position he held till 1936.
Forced by the British, who suspected him as a fomenter of trouble, to resign from Mayo, Sanyal set up Lahore College of Art.
It was here that his natural gift as a teacher blossomed and a faithful group of artists built up around him, which looked upon him as its 'guru' till the end.
After Partition, Sanyal and his wife Snelata, a ghazal singer and theatre person, came to Delhi, where they set up base in Gole Market.
In the Capital, he was associated with several groups and institutions, including the All-India Fine Arts and Crafts Society, Delhi Shilpi Chakra, the fine arts department in Delhi Polytechnic and the LKA, where he served as its secretary and vice-chairman.
He introduced several innovations during his tenure, including the first triennial, which is now a permanent fixture in the LKA.
The themes of Sanyal's paintings showed his concern for human struggles, especially by the economically deprived sections of society. He has painted a large number of rural settings, landscapes and depicted ordinary people going about their work.
His well-known paintings include, "The flying scarecrow", "Cow herd", "Despair" and "Way to peace" — which shows Mahatma Gandhi with a Hindu and a Muslim child.
Retaining his sense of adventure, which once prompted him to visit a red light area to sketch a model, Sanyal had remarked on turning 99, "I will score a century, and not by match fixing". UNI