THE TRIBUNE MAGAZINES
On alternate Mondays

On Sundays
On Saturdays
IN PASSING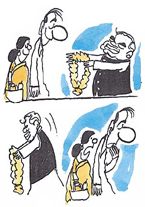 It seems they are honouring non-resident Indians only!

by Sandeep Joshi
Review no-first-use policy: NSAB
New Delhi, January 9
The National Security Advisory Board (NSAB) has reportedly urged the government to review its no-first-use nuclear policy in the light of the history over the past four years.
121 killed in two plane crashes
Lima/Diyarbakir (Turkey), January 9
A Peruvian airliner with 46 persons on board today crashed on a domestic flight, according to witnesses in the Amazon jungle region near the city of Chachapoyas.
Mirwaiz's passport suspended
New Delhi, January 9
Hours before his departure for the USA on a visit, Hurriyat leader Mirwaiz Omar Farooq's passport was suspended by the Centre on the grounds that his travel abroad was "against India's sovereignty and national interests".
Certificate racket busted
Gurdaspur, January 9
The police has busted a gang of cheats involved in selling fake class X and class VIII educational certificates at exorbitant prices by arresting four of its members. The accused used to charge Rs 10,000 and Rs 8,000 for fake class X and class VIII certificates, respectively.
B.C. Sanyal finds way to peace
New Delhi, January 9
Bhabesh Chandra Sanyal, known popularly as B.C. Sanyal or Bhabeshda, was a restless genius whose constant experimentation and concern for the human condition earned him accolades as the doyen of Indian art.



Amartya highlights Indianness
New Delhi, January 9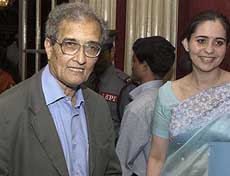 A Nobel laureate and eminent economist, Prof Amartya Sen, today sought to dispel the notion that India was a "confined" and "static society" and underscored the concept of Indianness as different from narrow parochial and religious identities.
Nobel laureate Amartya Sen arrives at the venue to address India's first conference on game theory in Mumbai on Wednesday. — PTI photo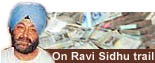 All-party meeting backs Amarinder
January 9, 2003
Advani: deport overstaying Pakistanis, Bangladeshis
January 8, 2003
Centre against disbanding SOG
January 7, 2003
Centre clears dual citizenship
January 6, 2003
PM to control N-trigger
January 5, 2003
Bihar in flames
January 4, 2003
Cell operators slash STD charges
January 3, 2003
India, Pak exchange lists of N-installations
January 2, 2003
Shimla wears a white blanket
January 1, 2003
We were ready for war: Gen
December 31, 2002