Sunday, January 12, 2003
Lead Article
Time to tackle bugs that attack mango trees
Satish Narula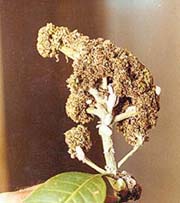 This is the time to nip the pests that attack mango trees in the bud
YOU faced the menace posed by those waxy little devils called mango mealy bugs last summer. It was too late to check them then. If you take corrective measures now you can save your plants, and even your house, from this bug next summer.
Looking for a cool refuge, these bugs creep under the pots, climb up the walls to hide under the cantilevers, or enter the house through door crevices. You can see thousands of them sticking to the growing plant parts. Though the name mango mealy bug may imply that it is a pest that attacks only mango trees, it has a tendency to infest about 60 plant species.
The fleshy flat-bodied creatures have a waxy, off-white appearance. They suck the plant sap, congregating in hundreds on the new growth on tree terminals. They sap the plant of vital nutrients and the damage caused by them attracts all kinds of fungi on to the plant, the most common being the sooty mould. Besides, they have tremendous nuisance value as one can hardly avoid stepping on the creatures crawling all over the place. There is also the risk of these insects being swallowed by toddlers in the home.