Yeh hai raaz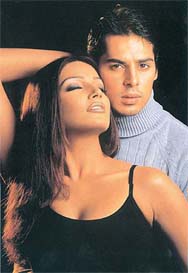 Bipasha Basu & Dino Morea in Raaz
It's a new trend that's simply not catching on. And the reason for that is not far to seek. In these days of cable TV and low attention spans not many viewers are interested in seeing a movie in three, four or five parts.
Star Plus first tried this programming innovation with Asoka, which was serialised in five-parts. But most viewers had by then seen it. Those who hadn't didn't think it worth their money and time. Now, the channel is ready with its second experiment. A year after it was released, Raaz is being serialised in three parts on Star Plus.
The film, 'inspired' by the Hollywood hit What Lies Beneath, is about a couple who go for a vacation to Ooty in a bid to give their marriage one last chance. As things start working out the woman senses someone around her — someone she can't see.
Says producer Mahesh Bhatt, "It is fascinating to see Star Plus reviving one of the biggest musical hits of the year. This is a brave effort." Indeed it is considering the experimentation has not attracted much viewership!
New Sahara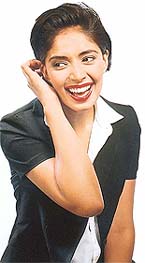 Ruby Bhatia: New countdown show on Sahara.
With Star Plus and Sony Entertainment Television ruling the airwaves, the third slot is up for grabs. Despite Zee's best efforts the channel has fallen far behind and is now in a neck-and-neck race with Sahara and Sab TV for slot number three.
The new year seems to be heralding an all new Sahara. Coming up in January is a serial based on Indian war heroes, Mission Fateh covering actual missions undertaken by officers of the Indian Army during wars and counter-insurgency operations.
An interesting comedy musical countdown show Hello hosted by Ruby Bhatia will start in the first week of January 2003. This will be aired 4 days in a week, Thursday to Sunday at 7.00 p.m. Hello has been produced by Prime Media Max the makers of such shows such as Tu Tu Main Main, Hum Saath Aath Hain and Gharwali Uparwali.
Says spokesperson, "Sahara will provide viewers a variety of blockbuster shows. It has already roped in many big stars for its current and new programmes." Given its money clouts this is certainly a red alert in the war for viewership.
Remembering Kishore Da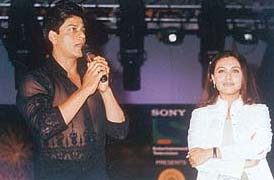 Shah Rukh & Rani: Evening devoted
to Kishore Kumar.
"He was a genius the likes of whom are born once in a century," says Gulzar paying a tribute to the musical brilliance of Kishore Kumar. Now get set for a spectacular star-studded concert on Sony TV devoted to one of the most loved voices of Bollywood whose golden voice mesmerised the entire nation.
Leading the cast of the show titled The Music & Madness of Kishore Kumar on January 12 at 9 p.m. is Shah Rukh and his three leading ladies, Karisma Kapoor, Rani Mukherjee and Sonali Bendre. Kumar Sanu, Abhijit and Babul Supriyo in their inimitable style try and match up to the great voice of Kishore Da.
The show opens with Eena Meena Deeka. Then follow some very melodious songs. Catch Shah Rukh swing with Rani to Main Sitaron Ka Taraana (Chalti Ka Naam Gaadi) groove with Sonali to Ek Main Aur Ek Tum (Khel Khel Mein), and dance with Karisma to Yeh Jawani (Jawani Dewani).
As a bonus watch the big boys of the industry pay tribute to one of Bollywood's greatest all-round entertainers of all time. If you love vintage music this is a thoroughly enjoyable show.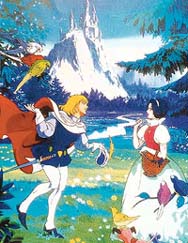 The Legend of Snow White on ESPN: Still enthralling
Magic of Snow White
The fairy tale may be hundreds of year old but this tale of a beautiful young princess and her tryst with life and love still holds a magic spell over young people. Now Cartoon Network perks up this festive season with the premiere of The Legend of Snow White, weekdays at 6.30 p.m.
The fairy tale features all the elements of a classic fairytale — a beautiful heroine, a vicious queen, Prince Charming and a septet of whistling dwarfs. This series poignantly captures the trials and tribulations that young Snow White encounters when she is orphaned at a young age and is in control of her wicked stepmother.
Luckily, a handsome prince comes to her rescue, but can he break the evil queen's spell? Watch the drama unfold each week in the enchanting saga of The Legend of Snow White. The story has entranced audiences for decades, teaching them to never be vain and always be happy in whatever they are doing.
Solve every crime
A man finds parts of a human skeleton in a secluded countryside. Forensic experts determine the victim was a woman and that she was stabbed. How do they solve a crime where the only clues are mere fragments of a decayed skeleton?
Or take another case. In a crowded city, a deadly killer stalks his prey by night. The only clues he leaves behind are bullet fragments and a shoe print. Can these clues put investigators on the trail of a killer?
The New Detectives, Mondays to Friday at 2 p.m., profiles the work of top criminal investigators and show how they rely on the new science of forensics. Scientists are solving today's most puzzling crimes with the help of anthropology, physiology, chemistry, entomology, psychology and computer technology.
Clothing, pet fur or a strand of hair — all can be used to connect a murderer to his or her crime. But it's up to forensic investigators to use the latest in scientific imaging technology to determine what they've got and what it means to them. Excellent narration and re-construction makes this a very absorbing series.
— Mukesh Khosla