Thunder lady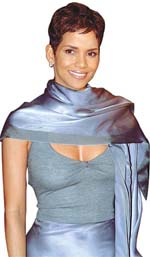 Till sometime back she was seen in the company of Eddie Murphy at most of the happening do's in Hollywood. But Monster's Ball and the Best Actress Oscar changed all that.
And now with the lead role in the latest James Bond starrer Tomorrow Never Dies Hollywood's latest sensation, Halle Berry has made movie bosses leap out of their seats. If rumour mills are to be believed she won the sexpot role which was originally said to be written for Sharon Stone.
"Yeah, the part was meant for a blue-eyed, blonde bombshell," purrs Halle. "Some years ago, the studios may not have cast a black woman as a sex symbol. That I was the one who was finally selected is great for my motivation."
Asked by one interviewer about the wicked ways of the film trade, she replies, "The truest cliche around here is that women have bodies and everyone wants to see them!...I even went through an audition where the guy said, "Come over to my place tonight and the role is yours.! Well, only women with half a brain fall for that line. I want to tell him I've still made it to the top and he's still slithering in some gutter."
Bond of all bonds

Connery: The 'real' 007.
Even though Madonna has a nice little role in the latest 007 filic, Die Another Day, the lady thinks Pierce Brosnan does not measure upto the 'original' James Bond, Sean Connery. And Brosnan agrees. The current 007 says Connery was "born to be Bond'.
Connery on his part can't agree more. "The characterisation was determined by how I played Bond in the first movie Dr. No. Timothy Dalton, George Lazenby, Roger Moore and now Pierce Brosnan have had to follow in my footsteps," says he unabashedly.
Today, at 73 Connery can look back in comfort at his amazing career. Even critics who panned him for playing Bond are now his great fans considering the vast repertoire of roles he's played after quitting Bond.
"They never realised I had more in me than playing Bond. Now that I've dispelled the sceptre of 007 they've changed their opinion." And then, he adds with a wink, "Id like to fool them again by accepting the role of 'M' the arch enemy of Bond!"
Model muddle
Age hasn't mellowed Raquel Welch. Although she is years past her prime, she still thinks she's the world's No. 1 sex symbol.
Recently, when she was shooting for an ad film promoting a line of skin care products, Raquel asked other models to waive of their $1,000 per session fee because of the privilege of working with her.
Much to her shock and dismay, the girls refused, saying that she had as much —or as little-star appeal as her and that she was no longer the face she was in the '60s.
Her ego shattered, Raquel quietly went about her job vowing never to speak to the models again.
— Newsmen Features