Sunday, January 12, 2003

Ranga's Toon Tales
Zia-ul-Haq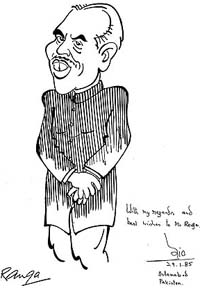 KNOWN for his extraordinary public relations, General Zia-ul-Haq, a former President of Pakistan, visited India on a number of occasions.
On one occasion he was in a great hurry to board his aircraft at Palam Airport after meeting the Prime Minister, Indira Gandhi.
The sketch I had made during his stay in Delhi escaped his attention but travelled along with him to Islamabad where the General found time to take look at it.
This was thank to one of his aides who took the picture with him and assured me that it would reach General Zia.
As expected, the sketch came back to me with his signature and with his personal remark — "With my regards and best wishes to Mr Ranga" dated January 29, 1985.