M A I N N E W S
Obscenity at Maghi Mela
Chander Parkash
Tribune News Service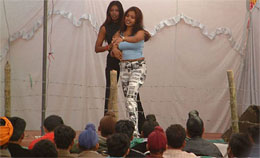 People watch jinda (live) dance at Maghi Mela on Monday. — Photo by Kulbir Beera

Muktsar, January 13
Unmindful of the religious sanctity attached with the Maghi Mela, the district administration has allowed a number of show organisers to run dance shows depicting obscenity from the temporary structures and mint money from those who come here to pay their obeisance at the gurdwara.
A visit to the site by the correspondent revealed that the organisers of these shows were fleecing devotees and other people by tempting them to watch skimpily-clad girls dancing to the tune of seductive songs.
The Maghi Mela is organised every year here to commemorate the supreme sacrifices made by 40 Muktas (liberated one) led by Bhai Mahan Singh at Khidrana ki Dhab (now Muktsar) during the battle with the Mughal army, which was chasing Guru Gobind Singh from Anandpur Sahib.
Even the policemen drawn from various districts for security during the mela have taken the dance shows as a source of entertainment as most of them can be seen enjoying the dance items.
Mr Ajaib Singh Bhatti, Additional Deputy Commissioner-cum-mela in charge, Muktsar, when contacted on the telephone claimed that after receiving complaints in connection with the dance shows he had imposed a ban on the same today.
Meanwhile, a major section of devotees expressed resentment over the shifting of the mela venue from an area on the Malout road to a vacant patch of land on the Muktsar-Kot Kapura bypass road. The devotees, who came in small numbers today, pointed out that they were finding it difficult to visit the stalls after paying obeisance at Gurdwara Tutti Gandi Sahib, which is located about 2 km away from the venue.
Mr Bhola Singh, a US citizen, who had come to pay obeisance at the historical gurdwara, alleged that interference of the district administration and politicians had started depriving the mela of its religious sanctity. He added that it should have been held at its traditional place.
Activists of various political parties were seen busy in pitching their respective party tents. The Congress, SAD, SHSAD, Lok Bhalai Party along with other parties would hold their conferences tomorrow. Mr Ashok Pardhan, Union Minister, would attend the SAD conference while some senior Congress leaders from Delhi were also expected to participate in the party rally.
Meanwhile, heavy security arrangements have been made to prevent any untoward incident. The DIG, Punjab police, (Ferozepore Range), Mr R.P. Meena, have been camping in the city and all vehicles entering the town were being frisked by the Punjab police commandos.