THE TRIBUNE MAGAZINES
On alternate Mondays

On Sundays
On Saturdays
IN PASSING
by Sandeep Joshi
Soldiers roll out Prithvi missiles during a full dress rehearsal for Army Day in New Delhi on Monday. India will celebrate its annual Army Day on January 15.
— Reuters
Farmers lift road blockade
Part payment of cane dues cleared; coop loan recovery deferred
Kharar, January 13
On the auspicious day of Lohri, there was a happy end to the five-day-old road blockade by farmers of the Chandigarh-Ludhiana-Jalandhar national highway here today.
Iftikar Gilani freed
New Delhi, January 13
A Delhi court today set free journalist Iftikar Gilani after the government decided to withdraw the case against him under the Officials Secrets Act, seven months after he was imprisoned at the Tihar Jail here.

In video (28k, 56k)
Arrest of Dawood's CEO biggest catch
New Delhi, January 13
Indian security agencies have scored tactical victories with the arrests of an LeT terrorist Imran Hussain Khan and notorious criminal Shakeel Lamboo, CEO of Dawood Ibrahim in India.
Sidhu case: SC returns reference
New Delhi, January 13
A presidential reference on the removal of former Chairman of the Punjab Public Service Commission Ravinder Pal Singh Sidhu was today returned unanswered by the Supreme Court.
Obscenity at Maghi Mela
Muktsar, January 13
Unmindful of the religious sanctity attached with the Maghi Mela the district administration has allowed a number of show organisers to run dance shows depicting obscenity from the temporary structures and mint money from those who come here to pay their obeisance at the gurdwara.
In Education Tribune today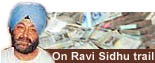 BSF thwarts ISI's bid to dig tunnel
January 13, 2003
HP elections on Feb 26
January 12, 2003
Norms for overseas investment eased
January 11, 2003
PIOs in 6 countries eligible for dual citizenship
January 10, 2003
All-party meeting backs Amarinder
January 9, 2003
Advani: deport overstaying Pakistanis, Bangladeshis
January 8, 2003
Centre against disbanding SOG
January 7, 2003
Centre clears dual citizenship
January 6, 2003
PM to control N-trigger
January 5, 2003