M A I N N E W S
Top shots sing 'happy birthday Mayawati'
Our Correspondent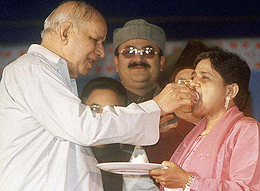 Bahujan Samaj Party chief Kanshi Ram offers a piece of cake to Uttar Pradesh Chief Minister Mayawati on her 47th birthday, in Lucknow on Wednesday. — AFP photo

Lucknow January 15
Amidst charges of misuse of government money, Uttar Pradesh Chief Minister Mayawati celebrated her 47th birthday in style today at the La Marteinere grounds.
Immediately after cutting a 47-kg cake, she flew to New Delhi to take part in another birthday bash organised at Talkatora stadium where Prime Minister Atal Behari Vajpayee and Deputy Prime Minister L.K. Advani were among the invitees.
Dressed in a pink colour suit and decked up with diamond jewellery, Mayawati first unveiled a statue of Baba Saheb Bhim Rao Ambedkar at the Ambedkar Park before to joining the celebrations.
A BSP source told this reporter that as per the advice of her Pandit, Mayawati cut the cake at 10 am and BSP supremo Kanshi Ram was the first to offer the cake to the birthday girl.
The who's who of the city, including senior bureaucrats and senior police officers, ministers, legislators and politicians sang the happy birthday song in chorus.
Then started the showering of gifts. There was a beeline of people to present gifts. Though Mayawati had made it clear that she preferred cash rather than kind, people came with big boxes neatly wrapped with colourful papers.
The government celebrated the day as 'Swabhimaan Divas (a day of self-respect) and organised cultural programmes including an exhibition on the life of the Chief Minister and the achievements of her government. Different departments were entrusted with the job to arrange for sweets, decorate stage and other jobs associated with the function.
The Opposition parties, including the Samajwadi Party and Congress, boycotted the celebration, claiming it to be a waste of government money. "When the state is in grip of severe financial crisis this wasteful expenditure only shows the apathy of Chief Minister towards the people of the state," said state president of the Samajwadi Party Ram Saran Das.