THE TRIBUNE MAGAZINES
On alternate Mondays

On Sundays
On Saturdays
IN PASSING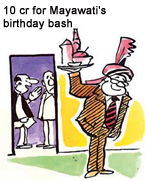 He is a Special Secretary (CMBB) — Chief Minister's birthday bash!

by Sandeep Joshi
Exempt Mandi Board from IT: Capt, Badal
Chandigarh, January 15
Punjab Chief Minister Amarinder Singh and Leader of the Opposition Parkash Singh Badal are together at least on one issue — the income of the Punjab Mandi Board should be exempt from income tax.
Suspend Principal: Dogra
Rejects demand for CBI probe
Amritsar, January 15
Health Minister R.C. Dogra has recommended the suspension of Dr O.P. Mahajan, Principal, Government Medical College, who was arrested by the special investigation team in connection with the kidney racket.
Docs get anticipatory bail

Kidney racket agent at large

Punjab page: IMA seeks impartial probe

Ludhiana page: Doctors divided over kidney racket
HP poll: BJP to finalise names by Jan-end
New Delhi, January 15
The BJP Central Election Committee is meeting on January 29 or 30 for finalising party candidates for the Himachal Pradesh elections, even as party sources indicated that the candidature of a majority of the sitting MLAs was likely to be retained.

In video: As Himachal Pradesh gears up for the forthcoming elections, the Congress blames the BJP for flouting election norms. (28k, 56k)

Petrol, diesel prices increased
New Delhi, January 15
State-owned oil companies today increased petrol and diesel prices by around 40 paise per litre, effective midnight tonight..


Golden Temple 'symbol' of Amritsar
Amritsar, January 15
The SGPC has prepared a case for declaring the Golden Temple as a world heritage site on the basis of its unique architecture and art works. The dossier, prepared with the help of INTACH under the guidance of Bibi Kiranjot Kaur, a former general secretary of the

A view of the sanctum sanctorum of the Golden Temple : The SGPC is sending a dossier to Unesco for declaring the temple a world heritage site. — Photo Rajiv Sharma
SGPC, reads, "It is a revered icon of the city as the Taj is to Agra or Eiffel Tower is to Paris".
In Science Tribune today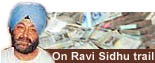 Chautala, MPs meet PM on SYL
January 15, 2003
Punjab moves SC on SYL
January 14, 2003
BSF thwarts ISI's bid to dig tunnel
January 13, 2003
HP elections on Feb 26
January 12, 2003
Norms for overseas investment eased
January 11, 2003
PIOs in 6 countries eligible for dual citizenship
January 10, 2003
All-party meeting backs Amarinder
January 9, 2003
Advani: deport overstaying Pakistanis, Bangladeshis
January 8, 2003
Centre against disbanding SOG
January 7, 2003
Centre clears dual citizenship
January 6, 2003
PM to control N-trigger
January 5, 2003