Rajiv shines in Khalsa win
New Delhi, January 16
Rajiv Uniyal hit a strokeful unbeaten 78, studded with nine fours off 106 balls, to help Khalsa College edge past Rajdhani Sports by two runs and entered the semi-final of the seventh Sahibzada Ajit Singh Cricket Tournament at the Sri Guru Gobind Singh College of Commerce ground at Pitampura. Rjiv Uniyal was adjudged the Man of the Match.
Modern School eclipse Sun Rise
New Delhi, January 16
Modern School, Barakhamba Road trounced Sun Rise School, Kolkata by nine wickets and entered the semi-final of the National HT-Pace Young Cricket Tournament at the National Stadium ground.
DAV lift Aryavrat cricket trophy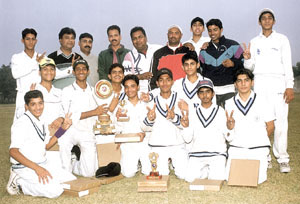 New Delhi, January 16
Abhishek Sakuja played an all-round role, scoring an unbeaten 53 and scalping three wickets for 24 runs, as DLDAV School, Shalimar Bagh defeated Young Friends Club by 19 runs and annexed the first Aryavrat Under-15 Cricket Tournament trophy at the Paschim Vihar Sports Complex ground.



The DLDAV School team with the Aryavrat cricket trophy.

New Delhi Heroes beat Delhi Police
New Delhi, January 16
New Delhi Heroes defeated Delhi Police 1-0 in a Delhi Soccer Association-SAIL Super League match at the Ambedkar Stadium on Thursday. Deepak scored the match-winner when he converted a penalty kick 27 minutes into the second half.
Bal Bhavan School win in CBSE tourney
New Delhi, January 16
Bal Bhavan Public School, Mayur Vihar won the third place in the Central Board of Secondary Education National Volleyball Tournament for girls Under-19 held in Chennai. Twenty-one school teams from all over the country participated in the tournament.
Bechtel get past GE Capital
New Delhi, January 16
Bechtel defeated GE Capital by four wickets in a league match of the tenth Teri Cup Cricket Tournament at the Central Secretariat ground.
Karan stars in Modern's victory
New Delhi, January 16
Karan Rai shone with both the bat and ball (60 and 3 for 13) to help Modern School, Barakhamba Road defeat Ganga School by 77 runs in the sixth Rohtak Road Gymkhana R P Jain Memorial Under-15 Cricket Tournament at the Modern School ground.
Mohan Meakins earn full points
New Delhi, January 16
Mohan Meakins scored a thrilling two-wicket victory against Central Warehousing Corporation by two wickets in an A-I Division match of the DDCA League at the Yamuna Sports Complex I ground.


Electoral rolls of six Sonepat segments out
Sonepat, January 16
The Deputy Commissioner-cum-District Electoral Officer, Mr Balwan Singh Dhillon, has finally published the electoral rolls relating to the six assembly constituencies of Sonepat district. According to a report, as many as 9,610 petitions and 191 objections were received by November 30 last year and these were disposed of after giving notices to the complainants.