M A I N N E W S
TRIBUNE SPECIAL
14 years of forced exile
M.L. Kak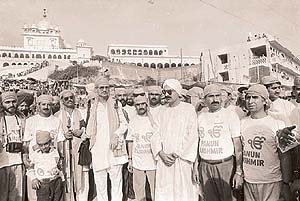 Kashmiri Pandits during the Kritagyata Yatra at Anandpur Sahib. File photo

Jammu, January 18
Over 3.50 lakh Kashmiri Pandits have entered into the 14th year of what they call, "forced exile" from the valley. Will they, like Lord Rama, be able to return to their ancestral places after completing 14 years of exile or lose their place of birth for good?

This question weighs heavy on the minds of the displaced families who have been staying in camps in Jammu, Kathua, Udhampur and Delhi and on those who have settled temporarily in various states and villages in the country. At least 200 families have migrated to different foreign countries during these 13 years.

And the displaced families, who have not been accorded the status of refugees so far, think of the present as "they do not have a future", says the Convener of Panun Kashmir, Dr Ajay Chrungoo. He said: "It is a question of day to day survival for us."

What have these Pandits lost during these 13 years ? They have lost about 11,000 persons. Over 10,500 died in the plains and about 500 were killed by the militants between 1989 and 2,000. "We have become a diseased community, "said a migrant doctor who remains awfully busy in clinics and at his residence attending to the physical ailments of the displaced people.

According to Dr R.K. Saproo, stress diabetes has caught majority of the migrants like a plague which is followed by psychiatric disorders. Hypertension, kidney problems, insomnia and forgetfullness have thickened the lines of patients in hospitals, nursing homes and private clinics. No wonder the city of Jammu had registered a mushroom growth of private nursing homes and clinics during the past 13 years.

These displaced persons have lost their houses, agricultural lands, orchards, shops. At least 70 per cent of houses and lands have been sold, 15 per cent of these immovable assets have been grabbed. The worst affected people are from the villages and those who would earn their livelihood from trade.

"My community members are gripped by financial insecurity and perpetual homeliness, "said Mr A.N. Vaishnavi, President, All State Kashmiri Pandit Conference. He said "split in families, lack of suitable living conditions, economic distress have resulted in a spate of divorces, unknown in the valley in the community."

Mr Vaishnavi said "rough estimates have revealed that about 800 couples have separated for various reasons." What seems to worry the community leaders is the growing rate of intercaste marriages. Dr Ajay Chrungoo said out of every 10 weddings four to five girls or boys go for intercaste marriages. "We have brides or bridegrooms from Kerala,

Maharashtra, West Bengal, Bihar, UP, Punjab and Delhi. In addition to this, some of our boys and girls have selected foreigners for a wedlock."

He said: "If the trend continues time is not far off when the Pandit community will become a rare species."

During these 13 years the microscopic minority community has failed to throw up an effective leadership or a political body. Panun Kashmir had become a force to reckon with when it called for a separate homeland, within the valley, for the Kashmiri Hindus. But within three years of its birth it got split into three organisations leaving its ardent supporters disheartened.

Most of migrants, living in camps, are yet to come out of the trauma. The cries of "Hum Kiya Chahtey Nizami Mustafa" (we want Islamic rule) rent the winter skies in Kashmir from January 19, 1990. Arjan Nath from interior of Srinagar, living in Jammu, trembles at any telephone ring at his residence because he vividly remembers the threats that he received on the telephone 13 years ago.

Have the members of these displaced families gained anything? Yes, several hundred families have managed to eke out a comfortable living in various states besides the Union Capital where they have purchased spacious flats and houses. They are grateful to the Maharashtra Government, especially Mr Bal Thackery, for having reserved seats for the migrant students in the technical institutions. More than 300 migrant boys and girls have been getting admission in these institutions every year for the past seven years.

Before migration 10 to 18 Pandit students would get admission in the engineering colleges and five to 10 in the medical colleges. During the last decade more than 1200 migrant students have completed degree and diploma courses in various engineering disciplines. And these boys and girls are working in various national and multinational companies right from Punjab to Mumbai and Bangalore.

While admitting that migration has given higher exposure to Pandit boys and girls, several Kashmiri Hindu leaders feel upset over what they call "scattering of our community." We lived within the seven bridges in Srinagar city and in villages across mountain-locked valley. Our's was a well-knit community. We have lost our moorings. We do not know where our relations and friends are," lamented Dr Chrungoo.

When reminded of the government's plan for aiding return of the migrants to the valley Dr Chrungoo and others feel sceptical. "The atmosphere is not yet conducive. If political leaders, especially the Chief Minister and his ministerial colleagues, move out without any security cover, we are ready to return," is the common refrain.

The migrants await their return to the valley. The government waits for the security scenario to improve and be conducive to their return. Till then everything is uncertain, unsure and dark for the displaced families.