ICPA meets as contract row continues
New Delhi, January 18
No sooner did the Indian cricketers arrive after their tour of New Zealand, they got down to the business of discussing the modalities of the newly-floated Indian Cricket Players' Association (ICPA).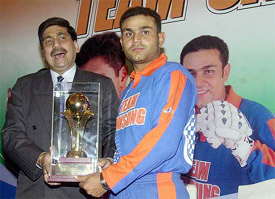 R. Zutshi, director of Samsung India Electronics LTD, presents the Samsung ESPN Cricket Award for the Year 2002 for the best batsman in the ODI to Virender Sehwag at a function in New Delhi on Friday. — PTI
Sodhi has not given up yet
New Delhi, January 18
Undeterred by the vicissitudes of his career — rising to mini stardom following the U-15 World Cup win and subsequently vanishing into oblivion and being left out of the World Cup squad — Reetinder Singh Sodhi is determined to break back into the Indian cricket team.
Haryana rout Himachal
Jalandhar, January 18
Haryana crushed Himachal Pradesh by 136 runs in the North Zone Inter-State Veterans Cricket Championship at Burlton Park cricket stadium here today. Haryana will clash with Punjab in the final here tomorrow.
Top shooters for Delhi World Cup
New Delhi, January 18
Big time shooting events will return to the sprawling Dr Karni Singh Shooting Ranges in Delhi when the National Rifle Association of India (NRAI) hosts the ISSF World Cup for shotgun and the Asian Clay Championship from March 15 to 27.
Chetan, Gurdeep to clash in final
Sangrur, January 18
Chetan Garg of Jalandhar and Gurdeep Singh of Sangrur will clash in the final of group C-3 in the Panjab State Subjunior Boxing Championship at Mastuana Sahib.
Gurpreet, Sandeep best lifters
Sangrur, January 18
Gurpreet Singh and Sandeep Kaur were declared the best weightlifter in the Junior boys and girls sections respectively in the District Weightlifting Championship which concluded here today.
DAV beat Mahilpur academy
Chandigarh, January 18
DAV, Hoshiarpur defeated Football Academy, Mahilpur, in the 41st Principal Harbhajan Singh Memorial Football Tournament at Mahilpur (Hoshiarpur) on the second day of the tournament today.
Alok wins billiards title
Chandigarh, January 18
Alok Kumar of Punjab won the senior national billiards title in the 69th National Billiards and Snooker Championships held at Jammu. In the final, Alok Kumar defeated Dhruv Sitwala of Railways 1080-829. In the semifinals he had beaten Sidharth Parikh of Railways by more than 800 points whereas Dhruv beat young Pankaj Advani of Karnatka.