Sunday, January 19, 2003



Reliance is a philosophy, a way of life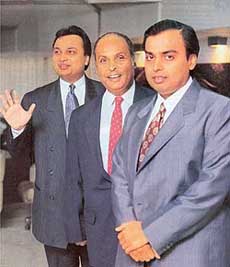 IN sprawling Navi Mumbai, the spotless huge buildings at the Dhirubhai Ambani Knowledge Centre, reflect the bright sunlight and appear like a space city shown in Hollywood movies. In just 18 months, dozens of buildings have come up here to house biotechnology, Infocomm and various life sciences departments. The centre, which will be completed by 2003-end, will be manned by nearly 5000 experts from various fields, and function as the nerve centre of all the activities of the Reliance Industries managed from the Reliance National Headquarters. The centre, a dream project of late Dhirubhai Ambani, has been brought to life by 44-year-old Mukesh Ambani, the current Chief Executive Officer and Managing Director of the group. For over 90 minutes, Mukesh took time off from his gruelling schedule to talk to V. Gangadhar on how Reliance intends to transform the future of India.
Memsahibs and the Indian marriage bazaar
Pran Nevile
THE imperial enterprise was a masculine affair. Until the late 18th century, very few British women ventured to come to India. The original charters of the East India Company also forbade women on its trading posts. To rephrase a hoary catchphrase, it may be said that the 'Empire was not acquired in a fit of absence of mind so much as in a fit of absence of wives'. The company once copied the Portuguese practice and played a matchmaker by shipping batches of young women for the marriage mart in India.
Ajanta frescoes get a facelift
Zoya Das
THE famous frescoes in the 5000-year-old Buddhist caves of Ajanta have received a facelift. Neglected for centuries, the horse-shoe shaped world heritage site near Aurangabad, in Maharashtra now appears cleaner and accessible, thanks to Japanese funding towards its "environmental upgradation".
Is philately a dying hobby?
Kunal Khurana
INDIANS are said to be born with the magpie instinct. From old books and newspapers to matchboxes, gramophone records, vintage cars, playing cards, calendars, film posters, ball pens, dolls, coins and paintings, they would collect anything and everything and preserve for posterity.
In the spotlight
"Jism's about a woman who's unashamed of her sexuality"
SHE is boldness personified. Pooja Bhatt has always believed in leading life on her own terms. Love her, hate her, but you can't simply ignore her. At a time when Hindi film actresses kept their boyfriends under wraps, Pooja flaunted her relationships and break-ups in the media with gay abandon.