Sunday, January 19, 2003

Television
Love in the time of terrorism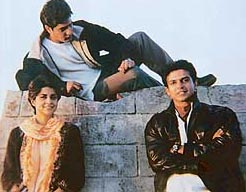 Scene from Kashmeer: Trouble in paradise.
KASHMIR and militancy are not just on top of the national agenda but they seem to have suddenly zoomed high on the list of serial makers. As the first new show of the year Star Plus has unveiled Kashmeer, every Thursday at 9 p.m. a love story set in the picturesque mountains and green valleys.
The serial revolves around a Hindu and two Muslim families who are very close to each other and their children too share each other's dreams. But soon enough their paradise is brutally devastated by killings and mayhem and the three families find themselves in the midst of the twin nightmare of terrorism and hatred.
Though films like Mission Kashmir and Maa Tujhe Salaam bit the box office dust, it remains to be seen if love conquers all in this star-studded serial that includes names like Farooque Shaikh, Suresh Oberoi, Kulbhushan Kharbanda, Nirmal Pandey and Gul Panag.
Food for thought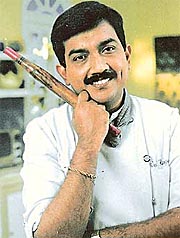 Sanjeev Kapoor: A new innings
He seems to have a finger in every pie. Besides making cuisine fashionable with Khana Khazana, Sanjeev Kapoor is also a celebrity who runs a hugely successful website and has authored some very popular books on the fine art of cookery.
Now he's entered cricket as well! Or rather, a cricketer is hoping to open his innings with the master chef. No, not as a celebrity guest on his show but as his partner.
After Kapil Dev's Sixer in Chandigarh and Sachin Tendulkar's new chain Tendulkar's, it now appears to be the turn of the Indian skipper Saurav Ganguly to dabble in the food business.
If reports are to be believed, Ganguly is tying up with Kapoor to launch a chain of restobars starting with Kolkatta in February — just ahead of the World Cup.
The Kolkatta outlet will have a swank all-glass bar, a cricket library and a dancing area with an in-house DJ. Kapoor will oversee the cuisine and drinks in the restobar.
According to a source, the endeavour would be to make it a fine dining experience and it will be a great success.
Surely, with the way he is playing, Ganguly needs all the success he can mop up these days.
Lady cop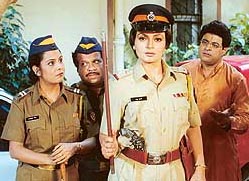 Scene from Lady Inspector: Thrills and spills
You've seen Hello Inspector, Avinash IPS, CID Officer and of course, CID. But if Doordarshan has its way you may no longer say, "it's a man's world out there." In fact, you wouldn't even think of it.
This may be another CID wannabe but what sets it apart is that the main lead here is anything but your typical middle-aged, balding detective. Upasana Singh plays the Lady Inspector in this crime-based serial which is soon to be aired on the national network.
Directed by P. Bisawa (Idhar Kamaal Udhar Dhamaal) the other star cast includes Gajendra Chauhan, Rajesh Puri, Rishab Shukla and Vijay Gokhale.
Says producer-director Bisawa. "It's not just about fighting crime and terrorism but rooting it out. And the lady inspector does it in the most imaginative and dramatic manner. It's an out-and-out thriller." That may be a tall claim, but the serial is worth a look only for Upasana Singh. The lady strikes a pretty pose as a cop.
Tiger princess
It sure seems to be the big bite month on TV as the National Geographic Channel has tigers on its mind. Watch the Swamp Tigers of the Indian Sunderbans on January 22 at 9 p.m.
They are known man-eaters and devour locals every year. Yet, despite their reputation, these tigers remain virtually invisible. Innovative filming techniques allow for a rare and intimate glimpse of these secretive tigers who are the last true lords of the jungle.
On January 26, at 8 p.m. meet Latika Rana in Tiger Princess. She is one of the world's handful of women conservationists who are deeply committed to the cause of the tigers. But Latika is no ordinary person. Married to the prince of Nepal, she divides her time between high society in Kathmandu and tigers in Indian jungles.
The programme profiles the work of Latika's complex and often surprising life and will captivate you from the word go.
Good morning Disney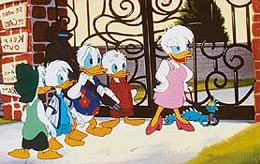 Donald & family in Quack Pack: New series
Here's another series of feather filled adventures. Watch, Donald Duck, the irascible mallard whose temper tantrums, vanity and keen curiosity brought him international fame in his first ever television series, Disney's Quack Pack.
Now Sony Entertainment Television brings you the Quack Pack all seven days of the week at 8.30 a.m. Each half-hour episode spills over with outrageous comedy featuring Donald, his teenage nephews, Heuy, Dewey and Louie and girlfriend Daisy.
A behind-the-scenes cameraman for an entertainment news show, Donald treks across the globe searching for news, outrageous situations and hilarious new friends. Trying to juggle career, family and more responsibilities, Donald discovers how difficult it is to look after three adolescents with a fatal attraction for trouble!
Stumble into adventure, drama and mystery with one of Disney's most classic characters in an all-new animated series in the new year.
Science of cooking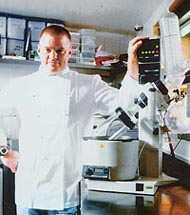 Kitchen Chemistry: Blumenthal with his pots
Who discovered that yeast added to flour would provide a staple of life — bread? Who figured out that cold oil and egg yolk make mayonnaise, while hot butter and egg yolk make hollandaise? Why do some creams whip, some thicken and others curdle?
Get the answers on Kitchen Chemistry a six-part series starting January 22 at 12.30 p.m. on Discovery Channel. Hosted by Chef of the Year award winner Heston Blumenthal, the series explores the science behind cooking and explains how, over the centuries, cooks have used scientific principles to their advantage — without even knowing it.
This is a cooking programme with a difference as it explains the science behind cooking.
But make no mistake. This is not a science tutorial. In each episode, Heston takes the scientific principles he has revealed and uses it to create a great dish.
— Mukesh Khosla