M A I N N E W S
2 kids thrown out of car; 1 dead
Varinder Singh
Tribune News Service
Jalandhar, January 21
Panic gripped city residents as two minor migrant kids, who were allegedly kidnapped from the Nakodar Chowk last night and were beaten up mercilessly by some unidentified persons, were thrown out on the Ladowali road this night from a running Maruti car — resulting in the death of one of the kids and grievous injuries to the other.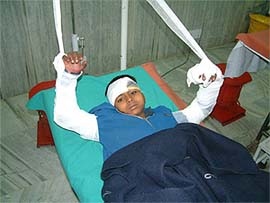 One of the minor kids who was thrown out of the car.

The medical examination of kids ruled out the possibility of the kids having been subjected to sodomy.
The incident occurred when alleged unidentified kidnappers pushed two badly injured kids aged between eight and 10 years out of their Maruti car on the busy Ladowali road and fled in their vehicle. As the children were badly injured and unconscious and could not move away on their own thousands of people converged on the road, leading to traffic jam. When police personnel reached the spot one of the kid was found dead and other was in a critical situation and both of them were subsequently taken to the local Civil Hospital. The deceased was later identified as Chetan, while the other kid, which was battling for life, was identified as Bhola, residents of jhuggis of the Transport Nagar locality. Both of them were seemingly wards of migrant labourer family from Uttar Pradesh.
The condition of the body of Chetan and the critical state of Bhola suggested that both of them were thrashed mercilessly with some blunt weapon like lathis and iron rods. Doctors attending upon Bhola maintained that blood circulation in the patient's right hand had hampered and his condition was serious. They said his survival was possible only in case the blood circulation got normal or the hand was amputated.
"Bhola uttered a few words suggesting that his sister lived in Transport Nagar and we are enquiring about that," said a police officer.
Mr Paramjit Singh Gill, SSP, said inquiries had revealed that no complaint or FIR about the kidnapping of the kids was lodged by any person in any of police stations. He, however, assured that strict action would be taken against the guilty and that the police was on the job to pinpoint the culprit.
Meanwhile, police officials suspected that migrant kids might have been nabbed by someone while stealing from his house or vehicle. They might have been taken to some place and beaten up, which could have resulted in the death of one of them. "We draw this theory from the increasing cases of involvement of migrant children in thefts particularly from stationary vehicles. It might not be the case as well," he said.