THE TRIBUNE MAGAZINES
On alternate Mondays

On Sundays
On Saturdays
IN PASSING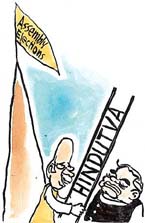 This ladder is a short cut to success!

by Sandeep Joshi

'Badal turned blind eye to scam'
Chandigarh, January 21
The Chief Minister of Punjab, Capt Amarinder Singh, today accused the previous Badal government of turning a blind eye to the kidney scam which had been going on in the state for years.
CM rebukes IMA

Punjab page: Badal denies hand in kidney scam

Kidney scam: IMA forms panel
Manipur's integrity to be upheld: PM
New Delhi, January 21


Prime Minister Atal Behari Vajpayee has assured Manipur that any solution to the vexed Naga issue would not threaten the territorial integrity of the state, according to Manipur Chief Minister Okram Ibobi Singh who met the Prime Minister this morning.

In video (28k, 56k)
2 kids thrown out of car; 1 dead
Jalandhar, January 21
Panic gripped city residents as two minor migrant kids, who were allegedly kidnapped from the Nakodar Chowk last night and were beaten up mercilessly by some unidentified persons, were thrown out on the Ladowali road this night from a running Maruti car — resulting in the death of one of the kids and grievous injuries to the other.
PANCHKULA EPISODE: A TRIBUNE FOLLOW-UP
Several questions remain unanswered
Panchkula, January 21
The police action against a senior Punjab IAS officer and his colleague's wife here last night reads like a mini-thriller, foggy night, high speed limousines, with the principal characters trying to put up fake identities. The incident, as reported by The Tribune today, has aroused not only tremendous public curiosity and interest but has also left several questions unanswered.


Once prestigious, now under cloud
Amritsar, January 21
The prestigious Ram Saran Daskishori Lal Kakkar Charitable Hospital, which had rendered yeoman service to injured police personnel during militancy days is now in the eye of storm due to the multi-crore kidney scam. When former Indian Youth Congress president M.S. Bitta, was brought to the hospital in a critical condition after an assassination attempt, a militant outfit had threatened to blow up the hospital.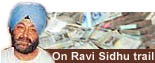 Pak cops harass diplomat again
January 21, 2003
Indian diplomat harassed in Pak
January 20, 2003
LeT turning global
January 19, 2003
Cabinet reshuffle in 2 phases likely
January 18, 2003
Shinde to replace Deshmukh
January 17, 2003
Cabinet Secy convenes meeting on SYL
January 16, 2003
Chautala, MPs meet PM on SYL
January 15, 2003
Punjab moves SC on SYL
January 14, 2003
BSF thwarts ISI's bid to dig tunnel
January 13, 2003
HP elections on Feb 26
January 12, 2003