M A I N N E W S
PM's security breached again
2 held, remanded in police custody
Tribune News Service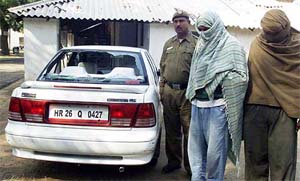 Two of the accused person Dhar Singh and Ashok (face covered) with their white Maruti esteem car with which they tried to intrude into the motorcade of Mr Atal Behari Vajpayee on Tuesday night at the Delhi cantonment police station on Wednesday.
— PTI photo
New Delhi, January 29
The Delhi police today arrested two persons and impounded the vehicle which reportedly breached the security of Mr Atal Behari Vajpayee in the Rao Tula Ram Marg area late last night when he was returning to his residence from the airport.
The two suspects, Ashok Kumar and Dharen Singh, were arrested from Gurgaon early today and cases of rash and negligent driving and interfering in the working of public servants were registered against them at the Delhi Cantonment police station here. According to PTI Dharen Singh runs a transport agency.
The two have been remanded in police custody for a day by the Metropolitan Magistrate.
Their Maruti Esteem car bearing registration number HR 26Q-0427 has also been impounded. Owner of the vehicle has been identified as Umesh and efforts were being made to trace him. The vehicle bore marks of gun shots when the Special Protection Group (SPG) commandos fired at it.
The incident has caused considerable concern among the top echelons of the security forces responsible for the security of the Prime Minister and other VVIPs. Top sources said a high-level review was being carried out and the entire security set up was being beefed up.
Senior officers were also looking into the fact that the suspects managed to escape even after the SPG commandos fired at the vehicle and an alert sounded all over the Capital." Had this been the vehicle of some terrorist outfit laden with explosives the consequences would have been disastrous", a senior officer, claiming anonymity, said.
According to the police, the suspects were drunk when they drove into the sanitised area on Rao Tula Ram Marg in south-west district of the Capital last night as the Prime Minster's cavalcade was passing by. The Prime Minister was coming from IGI Airport after his official visit to Ahmedabad.
When the suspects entered the Prime Minister's cavalcade, breaching the security, the SPG personnel fired at the erring vehicle but the suspects managed to escape, message was flashed to the police control room but all senior officials of the SPG security and the Delhi police heaved a sigh of relief today following the arrest of the suspects and seizure of their vehicle, the police sources said.
The front and the rear windshield of the car was damaged in the firing by SPG.
The sources said the two were with a woman identified as Neena, alias Gurmeet, when the incident occurred. She is still on the run.
The duo were being interrogated at length, the police added.
The personnel on duty are also being questioned.
Meanwhile, Delhi Police Commissioner R.S. Gupta ruled out any terrorist angle. "It was just a case of impatient persons wanting to move out fast," he said.
He also disagreed that it was a breach in PM's security, saying that "it was only a violation of rules and they have suffered."