THE TRIBUNE MAGAZINES
On alternate Mondays

On Sundays
On Saturdays
IN PASSING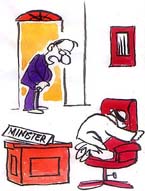 Sir, would you like to serve the country or the party?

by Sandeep Joshi
Sehwag to be on Time cover
New Delhi, January 29


India's hope and Delhi's hero Virender Sehwag (Viru) is all set to make it big. From the unpaved streets of Najafgarh village in the north-west of Delhi to be featured on the cover of the Asian edition of a multi-continental, multi-edition international news magazine, rated among the best in the world, Sehwag is all set to replace his very own idol Sachin Tendulkar as the "international icon" of Indian cricket.
PSEB ex-chief Sohal held
Patiala, January 29
The Punjab Vigilance Department arrested former Punjab State Electricity Board Chairman G.S. Sohal from Delhi early this morning on a charge of causing a loss of Rs 40 lakh to the board by going in for purchase of expensive meters.
Diploma hope for 'creative' mechanics
Chandigarh, January 29

If you are "innovative and creative" but unfortunately a "school dropout", you still can hope to get a certificate or a diploma from the government, thanks to a special scheme proposed by the Union Ministry of Human Resource Development, which is expected to be formalised by the middle of this year.
Rain brightens rabi prospects
Morinda, January 29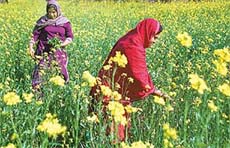 A light-to-moderate rainfall in various parts of Punjab and Haryana in the past 48 hours has brightened the rabi prospects in the region making, farmers as well as officials of the Agriculture Department happy.
A mustard field in full bloom was clicked by Tribune photographer Karam Singh near Morinda on Wednesday.


In Science Tribune today
Sports page
Congress splits in UP
January 29, 2003
Question mark over Bathinda refinery
January 28, 2003
Fresh threat to Bathinda refinery
January 26, 2003
India, France sign extradition treaty
January 25, 2003
Pak expels four Indian staffers
January 24, 2003
Four Pak Mission staffers expelled
January 23, 2003
Nod to jail term for insulting Tricolour
January 22, 2003
Pak cops harass diplomat again
January 21, 2003
Indian diplomat harassed in Pak
January 20, 2003
LeT turning global
January 19, 2003
Cabinet reshuffle in 2 phases likely
January 18, 2003