Landmark comedy
Two years ago, when it was first launched, nobody gave the channel much of a chance. Thatís because Sab TV had come at a time when Zee, Star Plus and Sony are riding high.
The tables have fully turned now with Sab TV running a neck-and-neck race with Zee TV behind Star Plus and Sony. A lot of Sab TVís success has to do with comedy ó a potential no other channel has exploited. Serials like Office Office. Yes Boss, Public Hai Sab Janti Hai, Akting Akting and others have all ensured regular clicks for the channel.
Especially Office Office. The serial has created a landmark by winning 14 top awards ó six for best comedy and four for best actor to Pankaj Kapoor. The credit for its popularity must go to Kapoor whose brilliant sense of comedy has infused a timeless quality.
In case youíve missed this satire, tune into Sab TV every Monday and Tuesday. The serial touches the heart of every ordinary Indian and brings out the humour not just of the common Indianís predicament even as he sees the entire system collapsing around him.
Musical games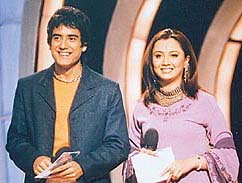 Karan & Nausheen in Hai Na Bolo Bolo:
New game show
For those who thought the Hindi film song craze was a thing of the past after the plummeting fortunes of Close Up Antakshri hereís something to sing about.
Hai Na Bolo Bolo every Sunday at 11 a.m. on Star Plus is the new entrant to the already crowded game show slot. Hosted by Nausheen Aly Sardar (Kkusum) and Karan Oberoi, (Band of Boys), it concentrates on Hindi film songs and promises to be different.
Before you stifle a yawn, hereís the difference. The musical rounds are based on popular games like Rummy, Antakshri, Snakes & Ladders and Naughts & Crosses. There is also the mandatory audience interaction and celebrity performances. So if you are in the mood to swing to the Bollywood beat, the duo of Nausheen and Karan will be happy to provide the beat!
Unending sagas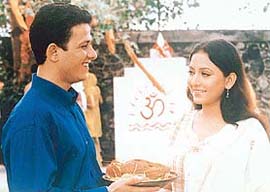 Shagun: Soap without end
Havenít we always wanted good times to roll on? Havenít we wanted life to be a long vacation that stretches on and on? Yes, we all have. But that seldom happens. Except if you are in the business of producing TV soaps. Then, times roll on ó good or bad.
Serials like Kyunki Saas Bhi Kabhi Bahu Thi, Kahani Ghar Ghar Ki, Ek Mahal Ho Sapno Ka, Heena and Shagun, to name a few, have shown that once soaps get launched they seldom get terminated. They are meant to entertain generations, and go on for years.
The idea behind the making of a serial is simple ó if it can run for four years, it can run for another four years. What about the plot? That is immaterial. Gone are the days when a Nukkad or a Wagle Ki Duniya ended with applause after a decent 13 or 26 episodes.
As long as a man and his mistress are not parted, as long as his wife can keep her extra-marital affair a secret, couch potatoes will lap it all up. Excess, apparently, is the path to success when it comes to television.
Clothes make these men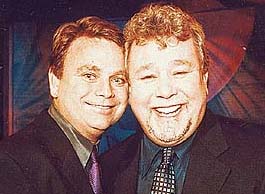 Hale and Pace in Dressed to Impress:
Designers in a hurry
From being two men "whose only concession to style is wearing a matching pair of socks". Gareth Hale and Norman Pace have only six months to convince top designer Tomasz Starzewski to let them design a collection for his fashion show.
Dressed to Impress February 9 at 8.40 p.m. is a show that throws a challenge at two normal people to turn into part-time designers. "We havenít a clue," admits Gareth, as they embark on their first sewing lesson. Fashion historian Colin McDowell agrees their aim must be to produce something that wonít be an embarrassment on the catwalk. Thereís one piece of advice they find particularly welcome they must find a strikingly beautiful woman who can inspire their work. To their delight, Jerry Hall agrees to display their collection which has a somewhat unusual theme..... Death in Venice.
At the end of it designer Starzewski is sufficiently impressed by their "innocence and freshness" to permit eight of their designs into the final show, which will give them just three minutes to make their mark. Will they capture the spirit of Jerry Hall? Will they impress hardened journalists? Find out in this thrilling show that is laced with humour.
ó Mukesh Khosla