Hot wheels
It's not just about fancy cars or speeding bikes Top Drive every Sunday 9.30 p.m. on Star World, takes a look at Indian automobiles. The show looks at launches of fancy wheels like Mercedes E series Tata Indigo, Sonata V6, Toyota Camry...and about their charismatic utility and the passion behind their proud owners.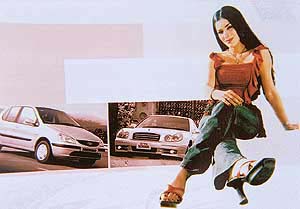 Top Drive: All you wanted to know about cars & bikes
Be it a car, meant as a feather in the fleet of a millionaire or just a down-to-earth sensible buys for the new family man, the show covers it all. There's a high energy, quick paced segment with bursts of international news. The show also features big bikes like the Thunderbird, Eliminator, Enticer, Fiero, and odd cars like Reva.
Then there's the obligatory celebrity entry with the first episode featuring actor Madhavan who shares his Lancer with viewers. The other celebrity guests slated on the show are stars John Abraham, Bipasha Basu, Tusshar Kapoor, and Vivek Oberoi, who share their most memorable moments on wheels.
Ready to burn rubber? Here's your chance to get behind the wheel for a smooth ride on some of the most powerful wheels in the country.
Serving cricket
For sports buffs, he is one of the hottest faces on television and his fan mail could probably support a small post office. He keeps you hooked to cricket. Be it news or views, interactive shows or live commentary.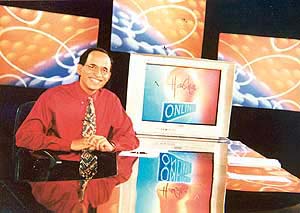 Harsha Bhogle: Making cricketing sense
Harsha Bhogle has a vital role in this World Cup where he is not just doing live commentary but also Harsha online and Super Selector special series for ESPN.
The smart talk may look very simple but it is'nt easy," says Bhogle, considered to be one of the two most prominent voices and faces in cricket—the other on line Gavaskar.
An IIM graduate from Ahmedabad Bhogle's tryst with cricket began in the seventies. The wiry, bespectacled played Azaharuddin at Osmania University. But his talent didn't carry him far in cricket. In fact, that was all the experience he'd actually have of playing the game he so authoritatively comments upon today.
Sitting in the box with the icons of cricket has given Bhogle an air of relaxed confidence. Most like Gavaskar, Shastri and Boycott confess their fondness for his effable persona. The man who has single-handedly changed the style of cricket commentary.
From USA to Kashmeer
She's no run-of-the-mill Miss India who thrives on page three coverage, pines for the glitz and glam of Bollywood and has a ball at parties. She's preferred to stay on the fringes of stardom by opting to become a television star.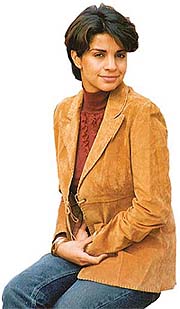 Gul Panag: TV calling
"It really depends on your family background and upbringing," says Gul Panag, who is doing the lead role in Kashmeer on Star Plus and co-hosting a karaoke show with Sonu Nigam Kismey Kitnaa Hai Dum.
"For some, winning the Miss India crown is a natural springboard to films, while for someone like me who has consciously stayed away from Bollywood, winning the crown was just another achievement in my career. Nothing more.
Interestingly, when the story was narrated to her she was leaving for America to give an interview at the prestigious Kellog Business School in the USA for a course in management. Though she cleared the interview she decided to postpone her studies and do the serial first.
"I just loved the script and wanted to be a part of the show," says Gul and adds, "I'll go back to management when the serial is over." Considering the length of serials these days, it could be a very long wait
Tuning into Raju
If some say there would have been no music in television without him, they couldn't be wrong. That's because there's hardly a show or a serial that does not reverberate with his music. Believe it or not, the mild-mannered Raju Singh has composed music for 105 serials, 29 TV ads and 20 music videos and has given 35 background scores.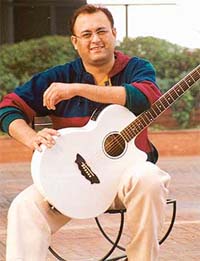 Raju Singh: Television's very own music man
Ever since he started with Dekh Bhai Dekh, there's been no looking back. Aahat Banegi Apni Baat, Boogie, Just Mohabbat, Khul Ja Sim Sim, Gharwali Uparwali, Kya Hadsaa Kya Haqeeqat are all his musical creations. His hummable jingles include Doodh Doodh [Amul], Hello Woogie chips, Cell One and the Coke ads with Hrithik.
Not bad going for a man who started his career as a guitarist with the late R.D. Burman. Today there aren't many TV shows that don't have him in the credits. He has composed logo music for Sony, Zee, Channel 9 B4U EL-TV, SET-Max Lashkara and more.
Though he's composed background scores for films like Pagalpan, Lawaris, Dil Pe Mat Le Yaar, Na Tum Jaano Na Hum and Chandni Bar he is now all set to hit the big screen as music director with films like Satta, Shaaadi, Dot Com, Chot and Charas. Does he feel contended? Yes, he says finally," Rqju ban gaya music man!"
Journey of a lifetime
Cheetah cubs may be cute and playful, but they mature to become legendary hunters of the plains, Crocodiles begin as vulnerable creatures dependent on their mothers, but with age, ascent the ladder to the top of the food chain.
What transpires during an animal's journey toward adulthood? How do different animal families interact? From the second a young animal is born — whether wolf, cheetah, crocodile or Zebra— it faces a struggle to survive.
Animal Planet brings viewers intimate portraits of animal experiences from birth through adulthood with premiere episodes From Cradle To Grave every Wednesday at 5 p.m.
The series examines life cycles of some of the world's most appealing animals, charting the seven stages of life in the wild and promising memorable moments and rare footage.
Each episode features a single species, follows its journey from birth and infancy to the excitements of adolescence, trials of adulthood, leading to maturity and eventual death. The absorbing programmes reveal the dramatic private lives of some of the most complex, intelligent, strongest and sensitive creatures in the world.
— Mukesh Khosla