P A T I A L A H E R I T A G E W E E K
'Ghungroos' cast magic spell on audience
Sukant Deepak


Patiala, February 23
Instrumental in giving a new dimension to kathak by experimenting with its techniques in the application of dance-dramas, Brij Mohan Nath Mishra or Pt Birju Maharaj, as he is popularly known, left the audience awestruck as he introduced them to several layers of kathak with magnificent improvisation.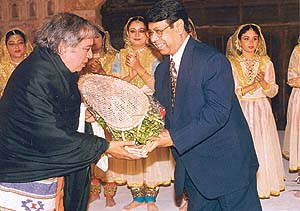 Pt Birju Maharaj being felicitated during the Heritage Festival in Patiala on Saturday.
Belonging to the famous Kalka-Bindadin Gharana of Lucknow, Pt Birju Maharaj, a recipient of the country's second highest civilian award Padma Vibhushan, explored the harmony of both male and female essence in an individual and the recognition of both in one through the composition designed by him and enacted by his pupils.
Mesmerising the audience by his solo performance "Nritya", the master, who is also expert choreographer, brought forth the various dimensions of "sur" and explored how the various rhythmic patters created by the unity of music and gestures bring to life different meanings in the same composition. His magical "ghungroos" conveyed more than what could have been through vocals in the item composed by him, which reinterpreted the "jugalbandi" between the tabla and his "ghunghroos".
Not just a dancer but also an accomplished singer and percussionist, Pt Birju Maharaj, who received the Sangeet Natak Academy Award at the young age of 28, proved his vocal prowess by singing a "thumri" written by his father. Pt Birju Maharaj, pure and intense "blue" composition of little Krishna, performed solo by him, faithfully represented the various dimensions and myths associated with Lord Krishna. His exhibition of the various situations through gestures was excellent theatre.
The evening was not just a dance performance composed by a dream-like tempera technique where moods were established through fantastic use of colours in costumes and gestures of the dancers accompanying the master, but also an introduction to the next generation of dancers trained by him.
His son Deepak Maharaj explored the various improvised dimensions of the kathak pioneered by his father and introduced the audience to several scintillating frames in which his wonderful perception of conceptualising harmony and rhythm lent his performance an almost photographic quality. Amidst the back drop of the Quila Mubarak, Maharaj's pupils brought to life the forgotten "mehfil" amidst poetry of the Mughal era. "Teri nazar se", composed by Pt Birju Maharaj, brought alive the aura and grandeur of that era through an excellent composed dance.
Filling the canvas of the stage with bright colours, different rhythmic patterns and intelligent contrasting pitch, Pt Birju Maharaj and his pupils, while exploring the various situations in life, approached the matic fabric of the items with optimism.
During their moments of dance near the end, the master and his pupils seemed to be more intimately absolved in the sense of being linked anew with the universe, as they performed late into the night during the eighth evening of the Patiala Heritage Festival.