Directorís special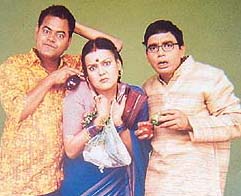 Vineet Kumar (right) with co-star:
Comic interlude
Heís different. While most of his starry-eyed school and college friends from Patna dreamt of becoming IAS officers. Vineet Kumar says he was never keen on a conventional career.
At the behest of his brother he joined the National School of Drama. And since then, with over 60 serials and 16 films under his belt thereís been no looking back and heís on the wishlist of top serial and art film directors.
"Itís been a momentous journey", says Vineet, whose latest serial Public Hai Sab Janti Hai on Sab TV is a more politically correct version of his earlier Ramkhilavan C.M. & Family. But though he plays the comic lead in both, the star is known more for his serious roles in Dhadkan, Kabhi Kabhi, Nai Daur, Aatish and Sea Hawks.
The flow of his intensity is best seen in art films like Dhraukal, Takshak, Haazar Chaurasia Ki Maa, Sanshodhan, Kaache Dhaage, Godmother, Shool and Aks.
But despite such meaty roles. Vineet ironically got recognition after Laloo Yadav supporters got a stay against the airing of Ramkhilavan. Says he, "Personally, I didnít care for the cheap popularity from the controversy. Iíd like to be known for my acting acumen." Considering his abundant range that shouldnít be too difficult.
Global sleuth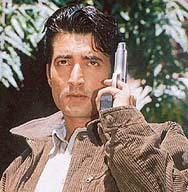 CID Inspector: Global sleuthing
Hello Inspector, Avinash IPS, CID and now CID Officer. It would seem viewers canít have enough of these thrillers and itís becoming mandatory for every channel to have a suspenseful story in its repertoire.
The latest to join the growing list of crime busters is CID Officer Mondays 10 p.m. on the national network. Written and directed by Gautam Adhikari, the new series is on the same lines as the rest except that itís on a bigger scale.
The difference here is that detective Vishwanath doesnít stoop to solve common everyday cases of murder, kidnapping and dacoity. Heís an international detective.
"On a national scale he would be dealing with cases as serious as say the December 13 attack on Parliament or go on a special mission to nab Veerappan," says Adhikari. "On the global level he could be travelling to Pakistan or some other hostile country to eliminate anti-India terror gangs."
The director admits that the serial is very film-like. "Thatís deliberate," he says. "I wanted to give a feeling of the serialís sweep. Itís more like a mini 007 series." Though comparisons may be farcical, but the Indian detective series does have its edge-of-the-seat moments.
All for kicks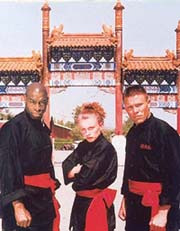 Fight School: Combat series
Think fast, think furious, think non-stop martial arts action and then youíre close to the excitement of Fight School, Thursdays, 7.30 p.m. on Star World.
Filmed entirely on location, Fight School will take 10 British fighters to China where they will try to beat each other in mental and physical combat ó for the honour of being crowned the ĎUltimate Fight School Champion.í
These British martial artists (five men and five experts in different techniques like Karate, Kick-Boxing, Taekwondo and Wushu) get put through their paces in a series of trials intended to test their martial arts skills to the limit.
The 10 amateur enthusiasts, recruited from the Britainís 2,000-plus martial arts clubs and associations, will fight each other daily, facing a punishing schedule of challenges, each designed to stretch them to near breaking point.
The series will capture all the drama using cinematic techniques drawn straight from the tradition of Bruce Lee and Jackie Chan. So, if you are a martial arts fan tune in to Fight School for half an hour of high action.
Scanning global economy
Everyone is involved in the global economy, whether they know it or not, as consumers, investors, stockbrokers, businesspeople, executives or pension holders. Their buying habits can have a huge impact on the fortunes of people from all walks of life.
Tales From The Global Economy every Saturday at 5.40 p.m. deals with the various aspects of world economy. The first programme on March 1, 2003, looks at coffee, the second largest globally-traded commodity after oil. Itís not just an essential morning pick-me-up, but a brown, viscous liquid worth billions of dollars to the global economy. With coffee shops springing up all over at a current rate of five a day, the drink has never been more fashionable. However, the irony is that as coffee is seen as a luxury, to be had once or twice a day. Coupled with global overproduction, this has pushed the market price to an all-time low. So, where does this leave producers like Brazil, Kenya and Peru?
The next programme deals with the American Treasury. Every few weeks financial journalists from all over the world are locked in the Treasury Press Room in Washington awaiting new US interest rates, in a ritual of global importance. The information will come from the enigmatic chairman of the US Federal Reserve, Alan Greenspan.
With the world hanging on his every word, Greenspan Alert shows how the US interest rate ritual is breathlessly reported and greeted by global investors. Which also explains why Greenspan is the mover and shaker of global economy.
ó Mukesh Khosla