---
Inflation dips
New Delhi, March 2
After maintaining an upward trend for four weeks in a row and recording highest 5.04 per cent in the current fiscal during the week ended February 8, inflation fell by 0.13 per cent at 4.91 per cent for the week ending February 15 mainly owing to lower prices of manufactured products.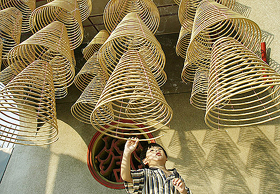 A Malaysian Chinese boy plays with spiral joss sticks at a temple in Kuala Lumpur on Sunday. Though the Malaysian Chinese are in the minority, a big minority at 37%, they control commerce, manufacturing, construction, the professions and sophisticated banking, financial and capital services and major industries. — Reuters
| | | |
| --- | --- | --- |
| | TAX AND YOU | |
LIC agents
Q: I am getting pension after my retirement from Defence Department. In addition to pension I earn commission due to agency work of LIC, Post Office, UTI and other Mutual Funds.
| | | |
| --- | --- | --- |
| | GRAPEVINE | |
Self goal
The whisper doing the rounds is that the stock trader who blew the whistle on a business journalist is unlikely to escape unscathed as SEBI is likely to zero in on some of his more recent stock transaction.