Love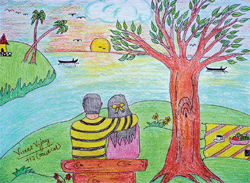 Vineet Vijay, +1
Love is a dream everyone should have to see it.
Love is a river everyone should fall in it.
Love is a risk everyone should take it
Love is life everyone should accept it.
Love is a sea everyone should swim in it,
Love is a life everyone should feel it.
Love is a music everyone should listen it.
Sunny Chauhan, XII - Arts
Oh! these examinations
Oh! these examinations are coming,
How fast the time is turning.
Will I be able to complete the course?
I am frightened ,of course.
If only all this long year
I had been sincere,
And if only I had paid
attention to my teacher.
I would certainly have a different future,
But I was so busy with other activities.
The only thing, I took lightly was my studies.
I was so engrossed in the merry atmosphere.
Naturally, I had no far
now, in my sleep I hear exam bell.
The life is becoming a bit hell,
But even then I will try my best
and the Almighty will do the rest.
Rohit Batra, XII - Arts