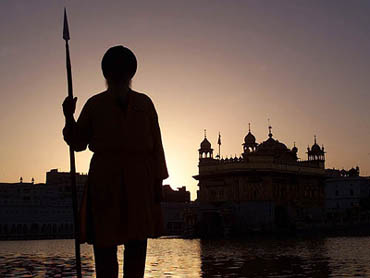 A Sikh temple worker stands guard inside the Golden Temple complex in Amritsar on Wednesday. — Reuters
Vigilance Bureau 'shielding corrupt cops'
Jalandhar, March 5
The functioning of the State Vigilance Bureau has come under a cloud as the panchayat members of Binjo village in Hoshiarpur district have accused the former of not initiating action against two Punjab Police constables, who had allegedly amassed assets worth about Rs 66 lakh, disproportionate to their known source of income over a period of two years.

Police remand for Chief Warden (Zoos)
Patiala, March 5
A local court today remanded the Chief Warden (Zoos), Dr Vinod Sharma, the Deputy Director, Mr Gurpal Singh, and two others including an Inspector and a former ticket booking clerk in police custody till March 8 following their arrest yesterday in a case relating to irregularities in the purchase of meat and fodder and sale of tickets registered against them at the local Vigilance Bureau police station.
Move on Anand Karj Act
Punjab MPs meeting today
Amritsar, March 5
The 100-year-old marriage Act for Sikhs, the Anand Karj Marriage Act which was later repealed was discussed during the in-camera meeting between Giani Joginder Singh Vedanti, Jathedar Akal Takht and Mr Tarlochan Singh, Chairman, National Commission for Minorities (NCM) during latter's visit here is likely to be rallying point in the coming days.
Badungar should appear before Takht
Amritsar, March 5
The sacked Jathedar, Takht Kesgarh Sahib, Prof Manjit Singh, has said Mr Kirpal Singh Badungar, SGPC chief, will have to appear before Akal Takht and the Sikh sangat for allegedly denigrating the high posts of the Sikh clergy, apart from causing avoidable embarrassment to the Sikh panth. He said he was making all-out efforts in this regard.
Sonia to back move in Parliament: Mann
Apology for "Operation Bluestar"
Chandigarh, March 5
Mr Simranjit Singh Mann, MP, President of the Shiromani Akali Dal (Amritsar), has said that Congress President Sonia Gandhi is prepared to support a resolution expressing apology or regret for "Operation Bluestar" in Parliament.
MUKUL JOSHI EPISODE
Bhagat Singh report soon
Chandigarh, March 5
Mr Bhagat Singh, Financial Commissioner (Revenue), is expected to submit his report about the January 20 Panchkula episode well ahead of both the Budget session of the Punjab Vidhan Sabha and the start of excise auctions in the state on March 14.
Will Virbhadra initiate regional cooperation?
Chandigarh, March 5
As "Raja'' from Rampur Bushair, Mr Virbhadra Singh, prepares to take oath as Chief Minister of Himachal Pradesh, there is a enough reason for the "Maharaja'' from Patiala, Capt Amarinder Singh, to rejoice. It will be unfair not to apportion to him a major share of the cake for the success of the Congress in the hill state.


Amarinder govt unpopular: Badal
Bathinda, March 5
Mr Sukhbir Singh Badal, Rajya Sabha MP and general secretary, SAD, today said the Congress government led by Capt Amarinder Singh had proved to be the most unpopular state government Punjab has ever had.
BJP apprehends rigging in MC poll
Chandigarh, March 5
Apprehending large-scale booth capturing and rigging of municipal elections in Punjab by the Congress, the BJP today submitted a memorandum to the Governor seeking the replacement of all SHOs and DSPs posted in municipal committees till March 9.
Cops hold march to warn miscreants
Abohar, March 5
The police today held a march to warn anti-social elements and restore confidence among more than a lakh residents of this politically sensitive subdivisional town. The Station House Officers of all three police stations of the subdivision and 100 commandos joined the march led by ASP Rakesh Aggarwal.
HIGH COURT
Punjab to hand over probe to CBI
Chandigarh, March 5
In an affidavit filed before the Punjab and Haryana High Court, the state of Punjab today said the government had decided to hand over the inquiry regarding Panchayat Secretaries to the Central Bureau of Investigation.
Two trials

Orders reserved

Arguments
Jail official charge-sheeted
Ferozepore, March 5
The Superintendent, Central Jail, Ferzoepore, Mr Bhajan Singh, has charge-sheeted Mr Kartar Singh, Assistant Superintendent (Jail), Ferozepore, in connection with the thrashing of women inmates of the Central Jail following a scuffle between two groups of inmates.


Woman claims right over donated land
Dadhera (Patiala), March 5
A school proposed for victims of terrorist violence here, which is expected to be spread over 23 acres of land donated by the village panchayat to the Police Department, may prove to be a blessing for many, but it has proved to be a curse for a family that has been tilling the land for the past 40 years.


BKU activists hold dharna
Patiala, March 5
Demanding free water and electricity for the agriculture sector, hundreds of farmers led by the Bharatiya Kisan Union (BKU) held a dharna outside the head office of the Punjab State Electricity Board (PSEB) here today. The protesters alleged that the present state government had backtracked on its pre-poll assurances. Criticising PSEB for taking "anti-farmer" steps, BKU leaders lamented that despite repeated pleas by them, the board had not only refused to listen to their demands but also had now started cutting the electricity connections of their tube-wells.


BKU farmers stage protest in Patiala on Wednesday. — Photo by Subhash patialvi
Sanction sought for 5 mobile phone towers
Sangrur, March 5
The local BSNL authorities have sent a proposal to the top BSNL authorities to accord sanction to the installation of five more mobile phone towers at Moonak, Sherpur, Mehal Kalan, Pakho Kalan and Amargarh in the district to provide better coverage to mobile phone subscribers and achieve the target of providing 12,000 mobile phone connections in this district.
Jaswinder Singh is DIET body chief
Bathinda, March 5
In elections to the DIET Students' Welfare Association held at Mansa today, Mr Jaswinder Singh (Moga) was elected state president while Mr Harmit Singh (Bathinda) was elected senior vice-president.
Pak national arrested
Attari (Amritsar), March 5
A Pak national Mohammed Aslam (25) was arrested near Attari village last night while trying to cross over to Pakistan from the Indian side.
Riot widows to get subsistence allowance
Chandigarh, March 5
The Punjab Government today decided to reconsider the issue of extending a subsistence allowance to the families of those who died during the riots and terrorist attacks.


5 booked for cheating
Jalandhar, March 5
The local police today registered a case against five persons for cheating and defrauding a finance company by producing fake documents in support of the ownership of land and a travel agent for the breach of promise and fabrication of documents.
Man kills wife, commits suicide
Nawanshahr, March 5
In a bizarre incident, Gurdip Singh (31), resident of nearby Mallpur Arkan village allegedly killed his wife, Avtar Kaur (28), brutally with a sharp-edged weapon last night and later committed suicide by consuming poison.
Smack seized, two held
Faridkot, March 5
The Faridkot police arrested two persons and seized 100 grams of smack from them in Teachers Colony here yesterday. The arrested men are Mangat Ram of Mangolpuri in New Delhi and Balveer Singh of Jadohan Kalan under the Najafgarh police station.


Engg colleges may get to use ITI facilities
Bathinda, March 5
"The Punjab government is planning to authorise various government-promoted engineering colleges to utilise the civil infrastructure of government polytechnics and Industrial Training Institutes (ITIs) for running useful courses," said the Punjab Chief Minister, Capt Amarinder Singh, at the third convocation of the local Giani Zail Singh College of Engineering and Technology (GZSCET). He said this would result in an optimum use of the underutilised infrastructure of polytechnics and the ITIs.
YPS children paint in vibrant hues
Patiala, March 5
The fact that children want to create their own world provided they are given a chance has been well reflected by the vibrant use of colours and forms by young schoolchildren of the local Yadvindra Public School (YPS) in a painting exhibition organised by them on the School campus.
Punjab school board exams begin
SAS Nagar, March 5
Over 5 lakh students today appeared in the matriculation and Class XII examinations conducted by the Punjab School Education Board which began across the state today. While 3.76 lakh students appeared in the Class X examination, over 1.58 lakh students appeared in the Class XII examination.

Last-minute preparations for students before the PSEB examinations that started on Wednesday. — A Tribune photograph