Sunday, March 9, 2003
Books
After dinos, it's the nanos' turn to thrill
Prerana Trehan
Prey
by Michael Crichton. Harper Collins.
Pages 367. Rs. 195.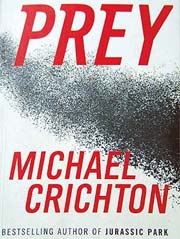 THERE are deadlines and then there are deadlines. And while reviewing Michael Crichton's books, they tend to fall in the latter category. After all, you have to make sure the book review comes out before the movie review does! Already topping the bestsellers charts, it is only a matter of time before Crichton's latest thriller Prey tops the box office charts in its movie avatar, too.
If you are a Michael Crichton fan, Prey might disappoint somewhat, particularly if you are expecting the non-stop, and almost believable, thrill of Jurassic Park. Which is ironic, really, because dinosaurs, as we all know, are history and will never roam the earth again, while nanoparticles, the tiny microscopic robots whose 'escape' from a research lab in the Nevada desert gives the plot its drama, are actually being developed in labs in the USA. Science fiction closely rubs shoulders with non-fiction here, and as the story of one harrowing week in Jack Forman's life unfolds, one can only be thankful that there is still less of science and more of fiction in the events narrated.
The suspense holds till half way through the story after which Crichton just simply gives up all attempt at holding the narrative together and the proceedings careen out of control. A promising beginning is let down by a flat-as-Coke-without-fizz climax. Jack, lately househusband and stay-at-home dad to his three children and formerly team manager with MediaTronics who loses his job, notices wife Julia looking and acting strange, and suspects infidelity to be the reason. Julia, Vice-President at Xymos Technology, a firm engaged in research in nanotechnology, is, indeed, acting strange. Infidelity, at least in the sense you and I understand the term and not in its technically advanced version— yes, there is a difference between the two — is not really to blame. And Julia's behaviour isn't the only thing strange. Infant Amanda, the youngest of the Forman children, develops a mysterious rash, which just as mysteriously disappears. Her older brother Eric claims to have been woken up by a "ghost" vacuum-cleaning the apartment.