Years later, Kalyani's world comes crashing down when her adopted son is accused of murder. The entire soap revolves around how the lady and her whole family stand like a rock behind the young man and how truth finally triumphs.
As far as soaps go, this one is no better of worse than others. But given the enormous talent of Rohini Hattangadi it certainly scores over competition as far as performances go.
Star show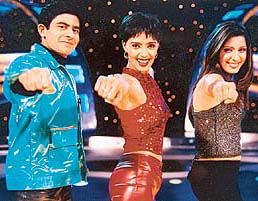 Kuch Kar Dikhana Hai: New celebrity show
They are the new icons of young people. And though you see them on the small screen every week or more many viewers crave for more. Kuch Kar Dikhana Hai every Friday at 8.30 p.m. on Star Plus caters to the demands of such viewers.
The show brings to the fore some of the new faces on television who have become household names like Sumeet Sachdev (Gomzi of Kyunki Saas Bhi Kabhie Bahu Thi). Mouli Ganguli (Shaina of Kaahin Kissi Roz) and several others.
Effervescent Husain (co-host of Kismey Kitnaa Hai Dam) and Shonali Malhotra (Ssshhh.. Koi Hai) host the talent show with their two teams. Singers, dancers, performers and all those who can command the spotlight, by virtue of their talent, are invited on the show. Each episode also has a celebrity judge who too will perform.
Made by Optimystix (also the makers of Khullja "Sim Sim & Kismey Kitnaa Hai Dam Aaj Dekkhenge Hum), the show is boisterous and noisy and recommended only for the bravehearts who consider shrieking and screaming as part of entertainment.
Radiant beauty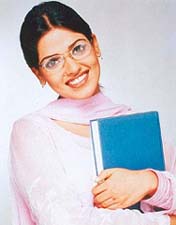 Riva as Nikki in Kyon Hota Hai Pyarr: Dazzling debut
Name a top ad campaign and chances are you'll find her name there. And why not? Today Riva Bubber seems to be the first choice of all agencies and photographers. If you find it hard to believe take a look at her recent assignments — Cadbury's, Ponds, Sunsilk, Rin, Camlin, Lifebouy, Maruti, Johnson & Johnson, Pantene, BPL and more.
But none of these ads excite her as much as her debut serial Kyon Hota Hai Pyarr where she plays the lead role of a college girl. Though this may be her first serial she's no stranger to television. Apart from her campaigns she has done music videos for albums of Asha Bhosle, Pankaj Udhas, Bali Brahmbhatt and Hisham Abbas.
Says Riva, "Kyon Hota Hai Pyarr is such a vibrant young theme. I am loving every moment of it." So are the viewers watching her play the vivacious Nikki.
Kid stuff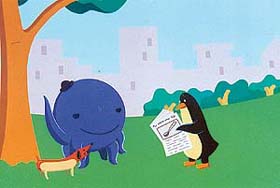 Tiny TV: Fun time for toddlers & moms
It is a learning programme packed with fun. Aimed primarily at mothers and pre-schoolers, weekdays 11 a.m. and weekends 10.30 a.m. Cartoon Network has launched Tiny TV a learning destination for kids and moms.
The show features several of the most loved and renowned children's shows, including Bob The Builder, Kipper, Make Way For Noddy. Oswald and Pingu who are all ready to enthrall toddlers.
"The aim is to establish a positive influence in the lives of pre-schoolers. All shows have been specially developed to familiarize toddlers with social concepts such as cooperation, sibling rivalry, positive 'can do' attitude, importance of friends and family, etiquette", say Ian Diamond, senior vice president, Turner Entertainment Networks Asia, Inc.
So, if you want your kid to grow up to be a positive person stay tuned to Tiny TV.
Blockbusters all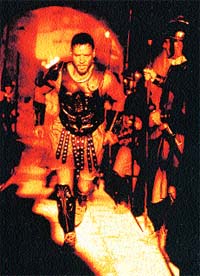 The Gladiator:
Oscar fever on HBO
From Ben-Hur to Lawrence of Arabia and from The Batman to The Exorcist, it's a season of Oscars at HBO. Catch the record breaking multi-award winning, critically acclaimed blockbusters like The Exorcist, The Gladiator, Saving Private Ryan, The Nutty Professor and Bridge on The River Kwai' every Saturday 9.30 p.m. and every Sunday at 9 p.m.
In addition to the Oscar marathon you can participate in the HBO Pick The Winners contest and nominate a winner each from four most prestigious categories — Best Picture, Best Director, Best Actor and Best Actress. Winners will get bumper prizes for getting all correct answers, even the ones who get at least one right answer will get exciting prizes.
Block your weekends for a night out at the movies. Watch Eddie Murphy get 'bigger' than ever in The Nutty Professor. Or get your pulses racing with David Lean's stirring saga, The Bridge On The River Kwai. Or watch The Exorcist, a movie that brought the devil back into vogue. In short the masterpieces of all times.
— Mukesh Khosla