Sunday, March 9, 2003
Books
Love, however unlikely, does find a way
K. Rajbir Deswal
Yadav — A Roadside Love Story
by Jill Lowe. Penguin. Pages 279. Rs 250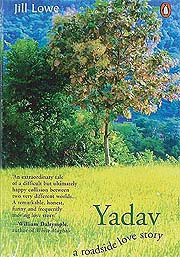 THE amorous tale of a 40-plus hard-boiled Haryanvi man and a 50-plus dyed-in-the-wool English woman is a pleasurable, picaresque odyssey showcasing the realities of the cold climes of England and the warmth of the subcontinent.
Jill Lowe, an upper-class woman and mother of five, is a tourist guide who loses her possessions and is separated from her husband who goes bankrupt. Her life becomes a series of bills, payments, visits from bailiffs, nervous breakdowns and apprehension regarding the upbringing and education of her children.
Lal Singh Yadav is a widower, father of four and grandfather of five. He is a happy-go-lucky taxi driver who lives with his large family on his farm in Haryana near Delhi. Although simple-hearted, he is a rough, uncouth, foul-mouthed drunkard.
The chemistry between the two is not surprising given their physical proximity. Jill had spent over 15 years in the company of Bobs and Johns, Eds and Bills, Joes and Kevs — all bus-drivers. But in the case of Yadav, Jill confessed, there existed "…a magical, inexorable cord that draws two people together."
Jill faces her ordeals and at 52, chooses to visit India, which in her friend's words was 'almost like a disease but quite a nice one', since she knew nothing about it. She wanted to prove to her ex-husband that she was just as capable of coping with life on the subcontinent as he had apparently been. There she met Yadav, who besides driving her on bumpy Indian roads, offered to double up as her friend, philosopher, guide and ultimately husband.