Tulip's life took a turnaround when she entered the Femina Miss India Contest in 2000. "I did not make it to the list of winners. But I was noticed by many ad agencies. Offers to model poured in and soon, I became a busy model. I did the Smirnoff campaign, the Siyaram shoot and the Vicks campaign. I worked in the video made to pay a tribute to Nusrat Fateh Ali Khan which had a rural background. I also did the Pepsi campaign for the South.
"But my entry into films was a mere chance. I was a friend of the young woman who married Aditya Chopra, the son of director Yash Chopra. The family saw me at the wedding and gave me numerous screen tests and auditions before I could qualify for a role in their new film. I trained in Hindi diction and in acting in Feroze Khan's studio. Then I acted in Mere Yaar Ki Shaadi Hai. A few films have been offered to me after that but I have been cautious. Actually, I love modelling and the ad world. The work here is time bound and easier than acting in films. Also, I am a graduate of food science and chemistry. I want to put my education to use and get into the restaurant business. I want to do just a few films only with people I know."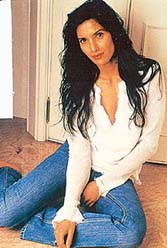 As opposed to Tulip Joshi, Padma Lakshmi, who has been in the limelight for her role in the forthcoming film Boom — to be directed by Kaizad Gustad and produced by Ayesha Shroff — is the daughter of a Keralite father and a European mother. She lived with her grandparents in Chennai after the divorce of her parents and her mother's return to the USA. Later, she too moved to the West and was educated there. Padma was ambitious to become a supermodel in the West and was 'discovered' by a photographer in Spain while still a teenager. However, a car accident in Malibu left a horrible seven-inch welt on her arm. "I thought with this ghastly scar, I could never make it to the ramp," she recalls, "I used layers of make up to hide it till Helmut Newton, show producer, said that I should present myself as I was. Thus, the scar became my brand statement. I was known as the woman with the long snake-like scar on the arm. Once I got over my insecurity about the scar, I modelled in Paris and Italy and because of my fluent Italian, was given a role in the famous Italian TV show Domenica In. I was soon a name in Europe and magazines like Vogue carried huge spreads about me."
However, It was her pairing with controversial author Salman Rushdie which brought her into world headlines. Ever since she was seen with him at parties and events in the USA, tabloids in the USA, UK and India began to carry pictures of the couple and Padma Lakshmi soon became a famous face and celebrity in India. Then last summer, she moved to India to stay with her grandfather and the Indian media showered her with attention and adulation. Though Padma had done films like The Caribbean before, her film career in India is a fresh start. "Though Caribbean was a failure," she recalls, "I had to put on 20 pounds for this film. To lose this weight, I innovated fatless recipes and then thought of writing the book Easy Exotic. The book was a fluke but it became a runaway success. I was featured on Food Network in America to promote my book and ended up hosting the Network's Planet Food show and Padma's Passport on Melting Pot.
"Last year, when I came to India, the media paired me with designer Anand Jon. But this is just gossip. I wear few designer clothes. Since I have met Salman, I have almost had a new birth. We make an interesting couple because both of us have interesting and somewhat controversial careers and lives. When I met him, I saw that he believed in me even more I did not myself. This was a pleasant surprise for a model like me. I began to work hard and achieved my own fame on my own merit. I love him for making me realise my own potential. Now I am working to complete Boom and I hope it succeeds. I know models have an elusive identity. I want to turn this myth over and prove that I am made of sterner stuff."
Though Tulip and Padma Lakshmi are two recent entrants to Bollywood, the phenomenon of mixed parentage actors making a name in Hindi films is not new. Long decades ago, when, 'good family' girls and boys did not get into films, mixed parentage women like Ruby Myers, Fearless Nadia and even Helen made their mark in the cinema world and gave India some memorable archival films.