Sunday, March 9, 2003

Sunday Activity
For a longer shelf life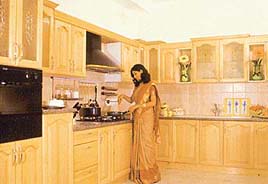 It is important to have a grime-free kitchen
FOR a housewife the kitchen is the centre of her domestic universe. It is the hub even if she doesn't spend too much time cooking herself. Even supervising the cooks or overseeing the culinary operations means that she has to be in and out of the kitchen. Thus, for her it is important to have a kitchen that is tidy, uncluttered and grime-free without being too clean to be true.
One area of the kitchen that gathers grime and grease are the shelves and cabinets. since they're frequently opened with soiled hands, their knobs, handles or surfaces become smudged and sticky. To avoid a thick build-up of grease, be sure to clean the soiled surfaces periodically.
Usually a solution of warm water and detergent is enough to dissolve stubborn grease stains on kitchen shelves. But the specific treatment depends on the kind of material your worktops or cabinets are made of.
Vinyl surfaces
Broadly speaking, painted wood, metal, laminated plastic or wood-grain vinyl surfaces can be cleaned with detergent and warm water solution. Rinse with a cloth or sponge dampened in clean water. Using a dry cloth or paper towel to wipe the surface dry prevents streaking.
Metal & sunmica shelves
For soiled painted, plastic or metal surfaces, you can occasionally use a creamy liquid wax which leaves a protective coating that retards soiling. If the finish is hard and in good condition, this may not be needed.
All-purpose household cleaners can be used but need to be tested on a corner of the shelf before being used. Scouring powder or other abrasives should never be used on cabinets as they will damage the finish! On painted metal, or plastic surfaces, using an appropriate spray-on all-purpose household cleaner on stubborn sticky spots should remove them; rinse thoroughly afterward.
Grease stains on sunmica shelves can be dislodged if scrubbed with lemon slices dipped in a bit of salt. For really stubborn stains, even a white vinegar solution can work wonders.
Wooden cabinets
Wooden shelves are the ones that are tougher to maintain and clean as water has to be sparsely used on these surfaces. Their finish and polish needs to be protected while removing the grime marks. For this, you may need to use a straight solvent such as paint thinner. But observe the necessary precaution while using this as this is highly flammable and toxic to breathe. Make sure there are no open flames or sparks in the kitchen and adjoining rooms. open the windows and door for proper ventilation and to drive out the strong odour.
If the wooden shelves are removable or in the form of trolleys, it is best to clean them outdoors.
If the wood finish seems dull after cleaning, you can apply a wood varnish to get the glossy look back and buff it if required.
The crucial thing to do before using household cleaners is to always pre-test the stuff inside the cabinet door. If the cleaning agent too leaves marks at least they won't show.
Once the rags with which you are cleaning the shelves get dirty, discard them and use fresh ones.
— Chetna Banerjee