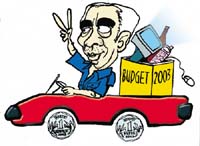 Heads IT wins, tails IT gains
THE Budget this year has been please-all and the IT sector has been the happiest of all barring the cyber cafť sector, wherein service tax has been imposed. In a nutshell, it has given a boost to the IT and telecom sectors. The endeavour of the Government is to sustain and encourage the momentum of growth achieved in both sectors. Concessions given to IT under Sections 10A and 10B of the Income Tax Act will be continued, even in the case of amalgamation of de-merger. The value of pre-loaded software has been excluded for the purpose of charging excise duty on computers.
Business up, teaching down
SOFTWARE companies in India hire over 60 per cent of fresh engineering graduates, and this trend may affect the growth of manufacturing sector and also the quality of teaching faculty in the long-term, according to a study by the Indian Institute of Technology-Bombay (IIT-B). Students from all branches of engineering are being lured by software firms which offer high wages compared to the old economy sectors, the initial findings of the study, based on placement data available with IIT-B since the early nineties till date.
Selling agro-products through Web
Rajesh Singh
THERE are unexplored potentials for electronic media in domestic as well as international agricultural marketing. An agricultural producer is facing unrelenting pressure for efficiency, myriad choices and marketing volatility, brought on by discerning consumers, quality- conscious buyers and a global marketplace. In order to compete and thrive in an era of constant change, there is a requirement of a pro-active marketing mindset, an intimate knowledge of production costs and a detailed knowledge of the quality of the commodities produced.
Rare artwork goes digital
FOR the first time in India, preservation of rare artworks of Amrita Sher-Gil and Rabindranath Tagore will go digital. Global IT major HP in partnership with the Centre for Development of Advanced Computing (C-DAC) has taken up a pilot project to digitise over 200 rare art works of Tagore and Sher-Gil from the Delhi-based National Gallery of Modern Art.
IT WIT
by Sandeep Joshi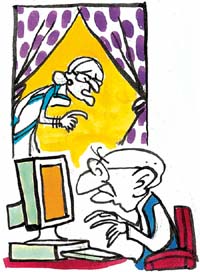 You have wasted equivalent of 7 years of married life in
removing spams, 4 in sending e-mails, 3 in receiving them...
Sunny days for dotcom stocks
Joanna Walters
THE long winter is over for the Internet stocks. Three years in the frozen wilderness and e-stocks look hot again. The USA is nervously calling it the dotcom comeback. And investors who got burnt when the dot boom bombed are now doing a double take.

Videoconferencing cures
Wendy Moore
THE idyllic isolation of the Shetland Isles, off the north coast of Scotland, became a desolate prison for Kate Richardson when she developed anorexia nervosa. With her weight below 42 kilos, Kate (not her real name) had scarcely enough energy to leave her home, let alone make a gruelling 12-hour ferry trip or costly flight to the nearest eating-disorders service in Aberdeen, on the Scottish mainland.

PC revolution confined to private schools only
Madhuri Sehgal
Information Technology is entering the schools in a big way. From CD ROMs to online assessment packages and even mathematical tools - a number of technologies have been developed, especially keeping the Indian children in mind. Many software majors are also sponsoring scholarships and programmes to make Indian children computer savvy.
Culinary Websites get cooking
Shalini Singh
KHUSHI was too happy. She was getting married to the love of her life. As the ceremonies proceeded, she was welcomed with great love and fervour. And now she had to prove herself. She was asked to make something sweet in the future kitchen of her dreams.
Gates eyes India, shares code with China
BILL Gatesí Microsoft has more plans to move software development work to India to help the firm save money and increase production, according to a presentation made at an internal office meeting. Moving some work to India could leverage the Indian economyís lower cost structure, Brian Valentine, senior vice president of the Windows operating system group says. Microsoft has 150 workers in a development centre in India and plans to increase them to 500 by 2005, Drake said. It also has sales offices in the country.