Monday, March 10, 2003
Feature
Gates eyes India, shares code with China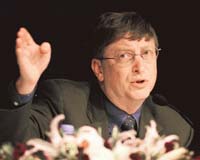 BILL Gates' Microsoft has more plans to move software development work to India to help the firm save money and increase production, according to a presentation made at an internal office meeting. Moving some work to India could leverage the Indian economy's lower cost structure, Brian Valentine, senior vice president of the Windows operating system group says. Microsoft has 150 workers in a development centre in India and plans to increase them to 500 by 2005, Drake said. It also has sales offices in the country.
Meanwhile, Microsoft has started a new cooperation project in China under which the global software giant would share source code of computer software with the communist giant, company Chairman Bill Gates said.
Gates, while on a visit to China, disclosed the new venture to Chinese President Jiang Zemin during a meeting there, the official Xinhua news agency reported.
"Gates briefed Jiang about Microsoft's investment in China and its latest cooperation in sharing source code of computer software," it said.
Jiang said China welcomes Microsoft Corporation and other well-known global companies to invest in China and seek common growth.
He said that China would always observe an open policy regarding developing the information technology industry, and was ready to strengthen cooperation with global advanced technology companies and seek common development.
During a meeting here with Liu Qi, secretary of the Beijing Municipal Committee of the Communist Party of China (CPC), he pledged to cooperate more with Beijing in e-government and software sales.
Liu said the city government wants to work more closely with Microsoft over the Chinese capital's software
industry.
Liu, also a member of the Political bureau of the CPC Central Committee, said Beijing was home to the greatest number of software talents in China and regarded software sector as one of its backbone industries.