'Corruption now on national agenda'
Chandigarh, March 10
Senior Congress leader and president of the Punjab Pradesh Beopar Mandal, Mr Ved Parkash Gupta, said today "all credit goes to the Punjab Chief Minister, Capt Amarinder Singh, for putting corruption by politicians on the national agenda."
'Kidnapped' industrialist returns home
Ludhiana, March 10
The case of a missing businessman of the city, whose family alleged that an influential industrialist of the city kidnapped him, took a new turn this evening when the man reappeared mysteriously.
Farmers' dharna enters sixth day
Patiala, March 10
Indefinite dharna by hundreds of farmers supporters of the Bharatiya Kisan Union (Rajewal) in front of the Punjab State Electricity Board (PSEB) office here entered the sixth day today.
HIGH COURT
Plea dismissed
Chandigarh, March 10
In less than 24 hours after elections to the Batala Municipal Council were held, hurdles in the way of counting votes were cleared after a Division Bench of the Punjab and Haryana High Court today dismissed a writ petition challenging the delimitation of wards by the Punjab Government.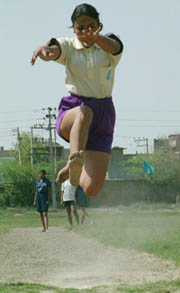 JUMPING FOR A MEDAL... An athlete participates in the long jump event during the 50th Annual Athletic Meet of Government Rajindra College, Bathinda, on Monday. — Photo Kulbir Beera
Man missing for 6 months
Patiala, March 10
Six months after Mr Pramod Kumar Malhotra, an investigating officer with the Diesel Component Works(DCW), disappeared when he had gone to depose as a prosecution witness in a departmental proceeding launched by the railway authorities against another inspector, who is presently stationed in Mumbai, his wife Suman Malhotra is still running from pillar to post to inqure about her husband's well-being.
PMO refers plea to Chief Secy
Tarn Taran, March 10
The Prime Minister's Office (PMO) has forwarded the complaint of Mr Chaman Lal, a resident of the town to the Chief Secretary, Punjab, for necessary action. Mr Lal had complained that the police officials responsible for allegedly killing his son in a fake encounter who are facing trial were threatening to eliminate him in case he did not compromise with them.
Licences of 12 pesticide dealers cancelled
Muktsar, March 10
Licences of 12 pesticide dealers, two fertiliser dealers and nine dealers of seed were cancelled as samples taken from their shops failed the tests. The authorities in a special campaign against spurious farm inputs took 200 samples of pesticide, 128 of fertiliser and 196 of seed from different towns in the district.
Tiwari, Khan regale audience
Phagwara, March 10
The Shri Baba Harballabh Sangeet Mahasabha organised a Vasant Utsav here last night. The classical renditions of vocalist Harish Tiwari, a disciple of Pt Bhim Sen Joshi, and violinist Asgharkhan of the Delhi gharana regaled the audience. Jagan Nath and Akhtar Hussaini played tablas for the two respectively.
25 buses gifted to Afghanistan
Jalandhar, March 10
Welcoming the support to his country by India, Deputy Transport Minister of Afghanistan Khadim Mohsin today invited Indian businessmen to invest in Afghanistan.


Adopt dairy farming, experts tell farmers
Bathinda, March 10
Dr Rajinder Singh Grewal, Deputy Director, Animal Husbandry, Department said today that the participation of rural women in dairy farming be encouraged.


Rs 60,000 cr set apart for education
Amritsar, March 10
The government had allocated Rs 60,000 crore for education in the 10th Five-Year Plan for giving school education free of cost to all children between the age of 6-14 stated Union Minister of State for Secondary and Higher Education, Dr Vallabbhai Kathiria while addressing the students at the 47th annual prize distribution function of the DAV College here today.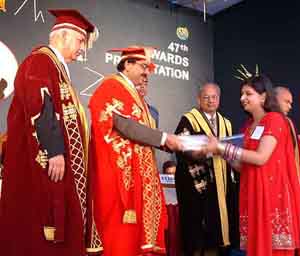 Union Minister of State for Higher and Secondary Education Dr Vallabhbhai Kathiria gives away an award to a student during the 47th Award Day of DAV College, Amritsar, on Monday.
— Photo Rajiv Sharma
PCCTU seeks Sonia's intervention
Barnala, March 10
The Punjab and Chandigarh College Teachers Union (PCCTU), a representative body of more than 5,000 private college teachers of Punjab, has sought the intervention of Mrs Sonia Gandhi, President of the All-India Congress Committee as well as Leader of Opposition, urging her to impress upon the Chief Minister, Capt Amarinder Singh, to honour the Congress party's poll promises made with Punjab private college teachers during the Punjab Assembly poll campaign in 2002.
Tampering with result feared
Fazilka, March 10
Mr Ramesh Verma, president of the BJP Mandal Fazilka contesting elections from ward no. 6 against Mr Dharam Pal Gandhi of the Congress, has in two separate faxed complaints to the Election Commissioner Punjab on Sunday night alleged that he was declared the winning candidates, but due to pressure of the ruling party, the officer did not declared the result. He feared that the result might be tempered with.
UK Mayor visits old college
Jalandhar, March 10
Degrees were awarded to 450 students of D.A.V. College, Hoshiarpur, during the annual convocation yesterday.