Sunday, March 16, 2003
Books
Looking for trouble on a holiday? Read on...
Deepika Gurdev
Holidays in Hell
by P.J. O'ROURKE. Grove Press. $20 (Singapore). Pages 272.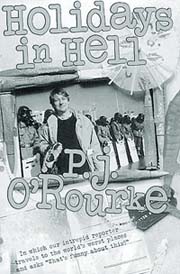 IF you want a guided tour of he world's most desolate, dangerous and desperate places, then P.J. O'Rourke's bestselling Holidays in Hell is just the book for you.
From Warsaw to Managua to Belfast, O' Rourke takes his readers around the globe on a fact-finding, fun-filled mission. The result is a no-holds-barred romp through politics, culture and ideology. His several adventures and misadventures include storming student protesters' barricades with riot police in South Korea, interviewing Communist insurrectionists in the Philippines, and going undercover as an Arab in the Gaza Strip.
He also takes a look at America's home-grown horrors as he braves the media frenzy surrounding the Reagan-Gorbachev summit in Washington, uncovers the mortifying banality behind Jerry Falwell's Heritage USA, and survives the stultifying boredom of Harvard350th anniversary celebration.
Packed with his trademark rip-offs on just about everything from Polish nightlife under communism to tips for driving in the Third World, Holidays in Hell makes for a compelling read page after page.
Here are just some of the rip-roaring quotes from a chapter aptly titled 'Third World Driving Hints & Tips': "One thing you can always count on in third world countries is trouble." "Dangerous curves are marked, particularly in Christian lands, by white wooden crosses positioned to make curves even more dangerous. Thus, when you come through a curve in a full power slide and are suddenly confronted with a veritable forest of crucifixes, you know you're dead." "As a rule of thumb you slow down for donkeys, speed up for goats, stop for cows and watch out for chickens. Third-worlders are particularly fond of their chicken and also their children (population problems notwithstanding). If you hit one or both, they may survive. But you will NOT!!!!"
If this and a whole lot more is anything to go by, there's no doubting the fact that O'Rourke has a bizarre sense of humour and fun. Forget Hawaii, Langkawi or the Bondi beach, this writer even has fun in war-torn Lebanon where he is greeted at the border by a gun barrel staring him in the face. But everywhere in the face of adversity, his sense of humour shines through. A Philippine army officer is "powerful-looking in a short, compressed way, like an attack hamster," and the Syrian army is described as having "dozens of silly hats, mostly berets in yellow, orange and shocking pink... The paratroopers wear shiny gold jumpsuits and crack commando units have skin-tight fatigues in a camouflage pattern of violet, peach, flesh tone and vermilion on a background of vivid purple. This must give excellent protective coloration in, say, a room full of Palm Beach divorcees in Lily Pulitzer dresses."
His sarcastic style may not be everyone's cup of tea but love him or hate him, there's no doubting that he knows how to tell a good story. And if you like your travel writing to be more than just one covered in five-star comforts, this would be just the book you've been looking for.