Crossing the rubicon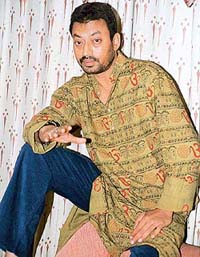 Irfan Khan ... On to films now
Remember him as the warrior king Badrinath of Chandrakanta and the no-nonsense Kumar of Banegi Apni Baat? We all do. But whoever could have imagined that Irfan Khan would soon become a sought after star of newage cinema.
After winning the Bafta Award for the Hollywood film Warrior, Irfan is big news in the world of parallel cinema. His film Road To Ladakh will be entering the European film festival circuit and his role of a gay in Adhoora has fetched him big critical acclaim.
Thatís the good news. The bad news is that the star of serials and shows like The Discovery of India, Sparsh Adhikaar, Kathasagar and Darr is bidding goodbye to TV.
"I really donít have the time now," says Khan who was recently in Delhi for the shooting of Charas where he co-stars with Uday Chopra and Jimmy Shergill. Besides he is doing three more high profile Bollywood projects ó Haasil, Dubai Return and Niya Haqbool and is playing the lead role in an international project, Bhokhsu The Myth.
Believe it or not the NSD graduate was also offered a role in a Sean Connery-starrer, Image of An Extraordinary Gentlemen but it fell through at the last moment. His other brush with glitterati came when he was shortlisted along with Ben (Gandhi) Kingsley for the lead role in Gandhi but it went to the latter.
Says he, "I am definitely taking a break from TV. Maybe I will come back in a couple of years if I get an offer I canít refuse." Televisionís loss is surely cinemaís gain.
Honour killing

Love, Honour & Obey: Travails of a young bride
This real-life story grabbed the headlines a couple of years ago. Now it has been made into a chilling television programme that delves into the depths of Indian culture and showcases how some people are still ready to die and kill for honour.
Love, Honour And Obey on the National Geographic Channel is the true story of a young woman living in Canada who followed her heart and secretly married in India. Her mother and uncle have been charged in India with conspiracy to commit murder.
Jaswinder Kaur Sidhuís (Jassi) story explores the Indian tradition of arranged marriages, the role of women and how this tradition copes and adapts when people move to the west ó especially places like Canada.
Through this tragedy, it explores a larger issue: the cultural clash between East and West and the changing roles of women in all societies. A disturbing programme marked by excellent re-enactments that will grab your attention from the word go.
Party time at Zee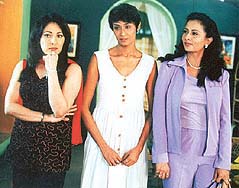 Kittie Party: Zeeís singular
hit after a long time

Even as her serial zooms up the charts week after week, Shobha De says she isnít surprised in the least as she was sure about its popular appeal. The reason, she says, is that her attempt has been to write about womenís lives through a womanís eyes.
But De is quick to tell you she is not a feminist writer but a woman who feels for other women. Thatís why Kittie Party. Wednesdays at 8 p.m. on Zee is trotting along so well.
The author says she has always attempted to break the shackles and call a spade a spade whether it is writing a serial like Kittie Party or one of her saucy books. She has seldom cared about the criticism and faced many a storm for her literary outbursts.
That is the kind of honesty that pervades Kittie Party. Though critics may pan it as insignificant and puerile, De defends it by saying that she has tried to probe the layers of emotions that insignificant events like kitty parties conceal.
Says she, "Authors often go after the serious stuff. But it is the day-to-day happenings that require a special skill. Not everyone can write a volume on kitty parties." Which explains why the serial is notching such high ratings. In fact thanks to her, Zee TV finally has a winner on hand after a long season of drought.
Computers take charge
Computer and communication technology are marketed as the answers to all our problems. But are they really? From software failure and hacking to the globalization of gaming culture and the limitations of silicon chips, Future Imperfect every Monday at 7 p.m. on BBC World examines the limitations of computing in the 21st century.
The computer gaming industry is now worth billions. From Tomb Raider and Final Fantasy to Resident Evil and Pokeman, computer games have infiltrated the psyche. With Sonyís new gaming console, Play Station II games might just catch us all.
Hacking and viruses seem rarely out of news. Public perception of computer hackers is of James Bond style evil masterminds, intent on wreaking havoc on the world. The show examines this murky world and comes up with some surprising answers.
You donít have an e-mail account and youíve never banked online. Software failure canít affect you, right? Wrong. From monitoring and control of nuclear weapons to air traffic control and automated highways, software controls every area of the modern world.
But software isnít perfect, it can, and does, fail. And it can be a catastrophe when it does. Watch this fascinating series to find out the frightening possibilities when computers go on the blink.