Sunday, March 16, 2003
Books
Right to life is more than physical existence
Kanwalpreet
Fundamental Human Rights, The Right to Life and Personal Liberty
by Sunil Deshta & Kiran Deshta. Deep & Deep, New Delhi. Pages 269. Price not mentioned.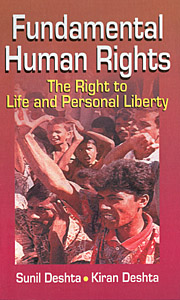 THE Emergency clamped on the people of India by one of our former Prime Ministers and subsequently the 42nd amendment have been the starting point for many discussions. Some questioned the status of Articles 19, 20 and 21 during the proclamation of Emergency. It is basically these fundamental rights, especially Art 21, which the authors set out to explore. Written in a very technical language, you cannot simply browse though this book. With all watershed cases being covered, the reader has to follow each and every word. The authors mention in the preface that Art 21 is "the fundamental of fundamental rights." In their research, they acquaint us with various aspects of this right, whether it is the right to live in a healthy environment or the right to live with dignity. One reassuring point highlighted is that the right to life does not only mean "mere physical existence, but includes the right to essential means and facilities which make life worth living with comfort and dignity. An atmosphere where a person can grow physically as well as mentally without fear or restrictions."
The book opens with the authors describing and eulogising the right to life and personal liberty. The controversy regarding Art 21, the shortest article in the Constitution, though the "most significant for those who cherish the ideals of liberty," is explained. Adapted from Art 31 of the Japanese Constitution, the case finely brought forward is the dilemma of the Constitution makers whether to adapt the "due process of law" or "procedure established by law." Besides this, a chapter that deals with the right to life vis-à-vis capital punishment is informative. The writers give a list of countries that have abolished capital punishment through law or disuse.