This book dwells upon such concepts as sin, individual and social ethics, theory of action etc. It is useful, not only for students of philosophy and theology but also for general readers.
Soul and Principles
by Dr. Kulwant Singh. Gurinder Singh Khokhar, Amritsar. Pages 120. Price not mentioned.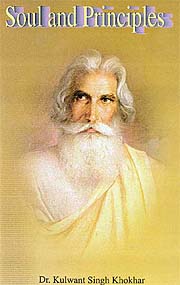 Structured religions help bring order in the society by systematically retailing the thoughts of learned persons — call them avatars, fakirs, pirs or prophets — and reinforcing socially beneficial value systems. However, there is a higher religion — that of the soul. It rises above all mundane divisions, prejudices and regimentation. We call it spiritualism. Kulwant Singh Khokhar highlights this aspect by giving brief accounts of the artist Sobha Singh, as well as the author's discourses with him over a period of 15 years. Shamsher Singh Puri says in the foreword, "All the subjects taken up in the book personify the artist and display his mental frame."
Famous for painting the Sikh Gurus, Sobha Singh could lend a special aura to lovers too. As Karam Singh Grewal observes, "Waris Shah made Heer-Ranjha immortal, and Sobha Singh has given perpetual life to Sohni-Mahiwal." But the artist displays his humility when he avers, "Such a painting may need many lives to perfect it". Sobha Singh's medium of message was his paintings; in the chapter 'My Art' he says that often people quote from books to justify their expositions. One merely repeats what had been said, say, a few thousand years ago. With paintings it is different, because these 'do not permit finding your own justifications out of them…In paintings there is no repetition of the old ideas…' The author has, through these discourses, effectively brought out the great artist's philosophical thought on art and life.
The late artist's expositions on such topics as conscience, lust, ethics, complexes, intellect, punishment etc are certainly worthy of contemplation.
Your First Job: From campus to career
by Rajiv Khurana. Vision Books, New Delhi. Pages 120. Rs 95.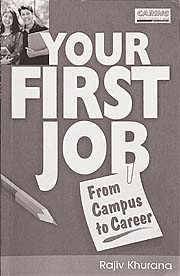 So you are on the verge of finishing your studies and haven't yet been able to decide on your career? Those who graduated in the 1970s or before were handicapped by both paucity of relevant information as well as career development opportunities. Thanks to the info-explosion and a wide range of opportunities today, one can plan one's career well in advance. As Rajiv Khurana says, "People who succeed do not take up a career by accident. They do so by choice." There is no dearth of people who set out to achieve one thing, but end up doing something else, resulting in job-dissatisfaction, stress and maladjustment.
In this well-illustrated book, written in easy-to-understand conversational style, the author tries to help job aspirants chalk out their cherished careers. Decide upon what you want, then draw a strategy to achieve it. Such chapters as 'Finding your way at the career crossroads', 'Resume writing', 'e-Etiquette for e-Resume' etc help you overcome the starting hiccups. Then the author advises you on how not to get rejected, how to cope with rejections and, when you get your first job, how to deal with teething troubles.
Happy career building!