Penne with eggplant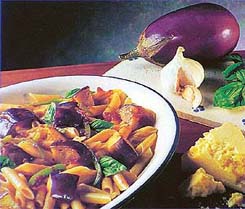 Penne with eggplant

Ingredients
Tomatoes 500 gm
Olive oil 2 tbsp
Garlic 4 cloves
Red pepper flakes 1/8 tsp
Eggplant 4 cups
Chopped fresh basil 1/2 cup
Salt 1/4 tsp
Freshly ground pepper 1/4 tsp
Dried penne pasta 350 gm
Pine nuts toasted 1/3 cup
Method: Bring large pot of lightly salted water to a boil. Meanwhile, run tomatoes in a mixer. Heat 1 tablespoon oil over low heat. Add garlic and pepper flakes and cook stirring until garlic is softened. Add mashed tomatoes, increase heat to high and bring to a simmer.
Reduce heat to low, cover and simmer. In a large non-stick karahi, heat remaining one tablespoon oil over medium-high heat. Cut eggplant into 1'' cubes. Add eggplant and cook, stirring occasionally for 4 to 6 minutes. Stir in tomato mixture and reduce heat to low. Cover with foil and simmer until eggplant is very tender. Stir in basil, salt and pepper.
Shortly before the sauce is ready, add penne to boiling water. Stir to prevent sticking. Cook for 6 to 8 minutes. Drain well, reserving 1/2 cup cooking water.
Place penne in a large warm serving bowl. Add eggplant mixture and enough reserved cooking water to moisten and toss to coat. Serve immediately, sprinkled with pine nuts.
Macaroni and cheese
Ingredients
Elbow macaroni 1 1/2 cups
Unsalted butter 2 tbsp
All-purpose flour 2 tbsp
Whole milk 1 cup
Cheddar cheese 1 cup
Parmesan cheese 1/2 cup
Roquefort cheese 1/4 cup
Dry breadcrumbs 1/4 cup
Salt and freshly ground black pepper to taste
Method: Preheat oven to 350F. Lightly grease an ovenproof baking dish.
Bring a pot of lightly salted water to a boil over medium heat and cook macaroni according to package directions until al dente. Remove from heat, drain and place in baking dish.
Melt butter in saucepan, and whisk in flour. Cook for about two minutes, or until the mixture thickens.
Gradually add milk, whisking constantly, and cook for six to seven minutes, or until the sauce thickens. Remove from heat, and set aside.
Grate the cheese and combine one tablespoon of each cheese in a small bowl, and set aside. Add remaining cheese to white sauce and stir until smooth. If needed, reheat cheeses over low heat to melt, and season to taste. Pour the sauce over cooked macaroni in casserole and stir to mix well.
Add breadcrumbs to the remaining cheese, and sprinkle over top.
Bake for 35 to 40 minutes, or until hot, bubbly and lightly browned on top. Serve hot.
Pasta e fagioli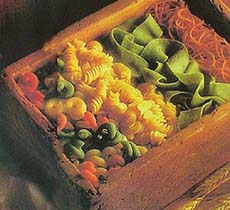 Pasta is available in a range of palata tickling shapes

Ingredients
Garlic cloves minced 2
Olive oil 2 tbsp
Tomato sauce 240 gm
Water 1 cup
Baked beans 1 tin
Elbow macaroni 250 gm
Fresh parsley; chopped
Cheese, grated
Method: Fry the garlic gently in the oil until golden brown in a saucepan. Add the tomato sauce and water, and let it cook for 10 minutes.
Add beans and stir gently, continue to cook on simmer. Cook macaroni till al dente, drain and add to bean mixture. Stir gently. If it gets too thick, add a little more water. Add parsley. Serve immediately, or else the pasta will absorb the water.
Pasta and peas
Ingredients
Olive oil 2 tsp
Chopped onion 1/4 cup
Garlic clove, minced 2 cloves
Mushrooms 1/2 cup
Tomato juice 1 cup
Peas 1/2 cup
Mozzarella cheese 60 gm
Cooked elbow macaroni 1/2 cup
Chopped fresh parsley 5 tsp
Salt and pepper to taste
Method: In a saucepan heat oil; add onion and garlic and saute until onion is translucent. Add sliced mushrooms and saute over high heat for two minutes or until mushrooms leave water; add tomato juice and bring to a boil.
Cook until the sauce is slightly thickened, about 15 minutes. Add peas and cook, stirring occasionally, till the peas are cooked. Add the remaining ingredients and cook, stirring, until cheese is melted. Serve immediately.
Baked pasta dish
Ingredients
Olive oil 1 tbsp
Onions chopped 1/2 cup
Bell peppers chopped 1/2 cup
Mushrooms sliced 1 80 gm
Garlic crushed 3cloves
Tomatoes 7-8
Tomato sauce 200 gm
Tomato paste 1\ 2 cup
Sugar 2 tsp
Basil 2 tsp
Oregano 2 tsp
Pizza seasoning 2 tsp
Salt 1 1/2 tsp
Black pepper 1/2 tsp
Parsley 1/2 tsp
Any pasta shape 180gm
Egg whites 4
Parmesan cheese 1/2 cup
Method: Preheat oven at 350C. In a large saucepan, heat oil over medium heat. Cook chopped onions, bell peppers, mushrooms, and garlic until tender. Add tomatoes, tomato sauce, tomato paste, water, sugar, basil, oregano, pizza seasoning, salt, black pepper, and parsley. Simmer, uncovered, for 30 minutes.
Cook pasta according to package directions and drain.
In a mixing bowl, combine egg whites, cottage cheese, and parmesan cheese. Stir in pasta mixture and pour into a 13" x 9" x 2" pan. Top with tomato mixture. Bake for 30 to 40 minutes. Sprinkle with additional cheese, if desired.