Sunday, March 16, 2003
Lead Article
Love in times of communal hatred
Ervell E. Menezes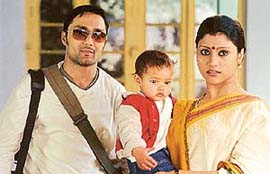 Rahul Bose and Konkona Sen in Mr & Mrs Iyer
THE best love stories on celluloid are narrated against the backdrop of war. Waterloo Bridge, starring Vivien Leigh and Robert Taylor, is a prime example. The uncertainty of the future brings out the poignancy of love and though Mr and Mrs Iyer isnít a war-time movie, the mini-war or communal riots which form the backdrop are no less stunning or heart-stopping. It is also very relevant today in the light of the saffronisation programme gaining much momentum accompanied by the politics of hate. "There is no war in my country, not yet --- but the communal riots that have torn it apart in recent months have been no less violent, no less ruthless," says director Aparna Sen, whose debut film was 36 Chowringhee Lane a couple of decades ago. And hence the catchline: "Love in the time of violence", with apologies to Gabriel Garcia Marquez. It is a simple story of two dissimilar persons thrown together in a crisis and how they react when death stares them in the face.
On a bus that descends on a narrow, winding hilly tract is conservative South Indian Brahmin Meenakshi Iyer (Konkona Sen Sharma) and her nine-month-old baby Santanam and wildlife photographer Raja Chowdhury (Rahul Bose). Meenakshi is a Hindu and Raja a Muslim. They are introduced to each other by a common friend so that the man can help the woman on the journey as she was travelling alone with a child. The bus passengers are an assortment of characters, from an elderly Muslim couple, a cranky middle-aged woman to a group of collegians on a holiday.
The establishing shots are good and give the story a headstart. That Meenakshi and Rahul are drawn together is purely a matter of convenience. But when the bus is attacked and Meenakshi saves Rajaís life by saying he is her husband Mr Iyer, Raja is indebted to her. Still, it isnít for a difficult, culture-conscious South Indian Brahmin to get along with a modern, near-liberated Muslim and though the rough edges keep rubbing every now and then, it could pass for the normal skirmishes in any married coupleís lives.