Singled out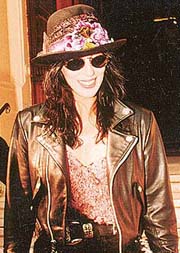 Cher: Man trouble
Stunning Cher is sleeping all alone on a double bed these days. Ever since doctors diagnosed yuppie flu, a chronic fatigue syndrome, the 54-year-old star has been without a "sleeping partner".
The sensuous actress-singer notorious for luring young studs is so badly afflicted that at one stage she could barely lift her head from the pillow. Men therefore have been out of her life. But itís not easy for Cher because sheís rarely been without a man.
She was just 17 when she married Sonny Bono. At 28 she got husband number two, Gregg Allman, who was followed by Josh Donnen, Gene Simmons, Les Dudek, Van Kilmer, David Geffen, Rob Camilletti and guitarist Sambora. But right now its only music in her life as she prepares for her new album after the chart-topping Believe.
Richard The First


Gere: Love me do!
What are superstars made of? Sugar Ďní spice and all things nice? At least thatís what psychologists think. According to a Hollywood poll, the mean, macho look is out. The modern woman goes for the cuddly, cute guy whom she wants to mother.
"The winning force combines baby-like features and sexual maturity," says Dr Michael Cunningham of the University of Louisville who asked a number of women to rate 100 photos of male stars.
The two men who won hands down were Richard Gere and Tom Cruise. Gere, the doc concluded, has a "strong chin and jaw and a smile that lights up his face although "his eyes are a bit small and hooded." Cruise scored high points for his unforgettable face, excellent chin, cheekbones, eyes, nose and a dreamy smile."
Concludes the report decisively, "Richard Gere is every womanís fantasy." No wonder any actress who works with him looks so star-struck.
Man, what a woman!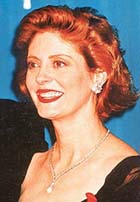 Susan Sarandon
When Susan Sarandon appears on the sets, heads turn. Everybodyís busy staring because, depending on the angle, she resembles either Jane Fonda or Meryl Streep. But in real life the star is far removed from either and is known more for her sexcapades.
During the filming of Bull Durhamshe hit it off with her co-star Tim Robbins from whom she has two kids. During The Witches Of Eastwick her affair with hero Jack Nicholson became so scandalous that it became grist for gossip mills. And then there was a passionate affair with her White Palace co-star James Spader (of Sex, Lies & Videotape).
Film insiders say that even at 56 Sarandon exudes so much passion and sensuousness that producers are flooding her with a variety of libidinous roles.
But it must go to her credit that she has never let her real-life affairs interfere with her reel life. In the 1991 Thelma and Louise she was nominated for an Oscar. She was nominated again the following year for Leronzoís Oil and then in 1994 for The Client she finally won in 1995 for Dead Man Walking and was again nominated in 1998 for Stepmom. And this year sheís in the Oscar limelight again for Dead Right.
Not bad going for a woman who has the reputation of a man-eater!.
Harry home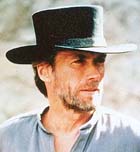 Clint Eastwood
Itís a 30-year-old love affair whose bonds are getting stronger by the day. Clint Eastwood and model-actress daughter Alison are simply inseparable. Whether itís a high-powered Hollywood party or one of the many charity shows Clint is invited to, heís there with Alison.
"He has a very different image in the movies. In real life, heís no Dirty Harry. Heís closer to the role he plays in the Bridges Of Madison County," says the daughter.
For quite a while now, Eastwood has been trying to change his image from a macho star to a more sensitive actor. And he feels that his new movie Lens Eye in which he plays an ageing photographer will do the trick for him.
Knock-talk


Madonna: House trouble
Madonna is angry again. Ever since she shifted to her Hollywood Hills house, thereís been a steady stream of fans who keep calling her at all hours. She approached the authorities for permission to build a moat around her mansion, to keep unwanted visitors away. But her request was immediately turned down.
Now the crestfallen Material Girl has started house hunting all over again.
ó Newsmen Features