Sunday, March 16, 2003, Chandigarh, India



S P O R T S
Atapattu leads Lanka into semis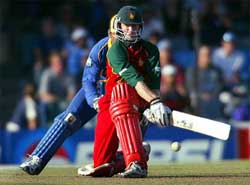 East London, March 15
Sri Lanka made full use of India's victory over New Zealand, sneaking into the semifinals of the World Cup with a 74-run victory against Zimbabwe in a Super Six match here today.
Zimbabwe batsman Grant Flower reverse sweeps a delivery against Sri Lanka at Buffalo Park in East London, South Africa, on Saturday.
— Reuters photo

Flower withstood many storms
For 13 years now, a special flower, Andy, has added glamour and value to the garden of Zimbabwe cricket. This Flower has seen several springs and withstood many storms. Though younger sibling, Grant, has also been a show-stealer, Andy's success will always remain a high point in Zimbabwe cricket.

Olonga retires
East London, March 15
Zimbabwe fast bowler Henry Olonga announced his retirement from international cricket today after his team's final match in the World Cup. Olonga, 26, was omitted from the team for the final Super Six match against Sri Lanka.

India's winning spree continues
March 15, 2003
Indians out to seek revenge
March 14, 2003
Doughty Kenya create history
March 13, 2003
Lee, McGrath rout Kiwis
March 12, 2003
Kiwis look to halt Aussie run
March 11, 2003
Sachin, Murali set to resume battle
March 10, 2003
Astle, Cairns star in Kiwis' victory
March 9, 2003
India overcome spirited Kenya
March 8, 2003
India need to stay focused: Wright
March 7, 2003
Master's bait that Pak quickies fell for
March 6, 2003
Emphatic 142-run victory for Windies
March 5, 2003
Rain devastates
SA yet again
March 4, 2003